Red Heart Super Saver Yarn + Susan Bates Crochet Hook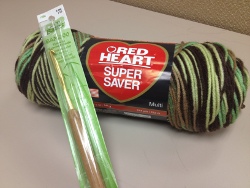 The Red Heart Super Saver yarn is a go-to yarn for most crocheters. It's 100% Acrylic and is a durable yarn. Made in the U.S.A. and made with care, the Super Saver Yarn is your best bet when it comes to crochet.
This skein is medium worsted weight and is machine washable. A beautiful gradient between brown and green is reminiscent of jungle colors which gives this yarn its name: Amazon. Take a trip to the rainforest and crochet with this yarn. Or you can feel the influence of nature for spring and autumn crochet afghans. The best part about this yarn is you never know how the yarn will change color. It's the spontaneity of this yarn that makes crocheting so much fun.
You can never have too many crochet hooks, but the Susan Bates Crochet Hook from Coats and Clark is a must have for your collection. This particular hook is a size J-10/6mm with a Bamboo handle. The handle is expertly crafted and has a lightweight quality that is good for crocheting for long periods of time. Comfortable and stylish, this crochet hook won't disappoint. You can read more about Red Heart Yarn in their company profile here.
Your Recently Viewed Projects