How Big is a Baby Blanket (Crochet)?
What is the average size of a crocheted baby blanket? Find out here!
By:
Krista Childers for AllFreeCrochetAfghanPatterns.com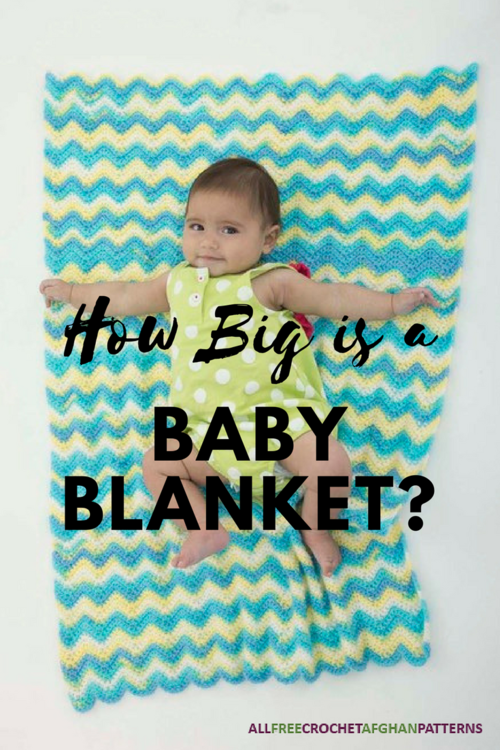 One of the many benefits of crochet is that you get to make gifts. One of the most important occasions is the birth of a baby and knowing how to crochet when you or someone you know is expecting comes in handy. You can make hats, booties, sweaters, and blankets.

When it comes to blankets, one of the most common questions is, "How Big is a Baby Blanket?" That's because there are about nine different types of baby blankets. A baby blanket can range from a small square to a large rectangle.

Besides there being several different types of baby blankets, there are other factors to consider when making a baby blanket. The size of a baby blanket depends on the size of the baby. Making a baby blanket for a newborn will be different than making a blanket for a one-year-old.

This crochet blanket size guide for babies is sure to point you in the right direction when deciding what type you want, what size, and other details you may be unsure of before crocheting.

So, take a look below and learn the differences between baby blankets and more. We'll start with a crochet baby blanket size chart and then go over the details of each. Then, be sure to take a look at our free baby blanket patterns to find a design to make next.
Types of Baby Blankets
When it comes to crochet baby blanket sizes, it's important to remember that there are several different types. It gets a little convoluted but most blankets serve a specific purpose.

Before choosing a pattern and crocheting, take a look at these baby blanket types and decide which one fits what you're looking for best.

Of course, there are always variations and alterations so it is not an exact science, but this is the most general definition for each type with the common sizes. 

Lovey: Lovey size is almost always a circle or square, which means the measurement is the same for both width and length. The most common size is 10 inches x 10 inches but can go up several more inches.

Loveys are the cutest blankets because they involve little animal or creature heads. It gives babies something to hold onto, which is helpful for their developing motor skills and comfort.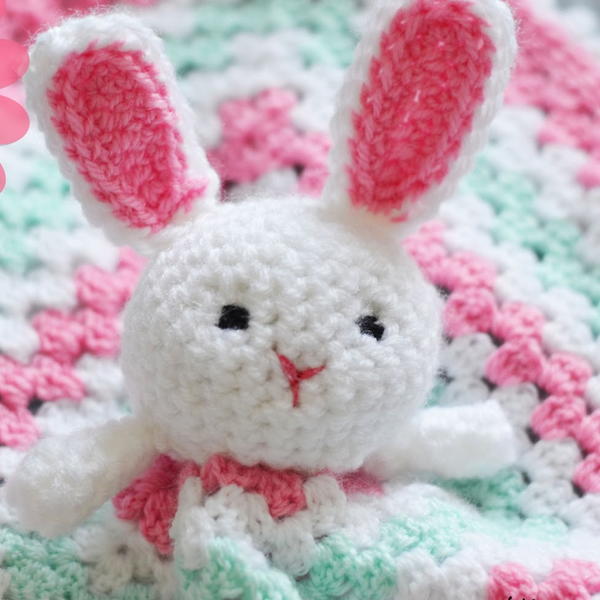 Security: Security blanket size ranges from 14 inches to 17 inches and is usually a square. The size really depends on the size of the baby, so you'll want to keep that in mind before crocheting.

Security blankets are meant as keepsakes for babies. This type of baby blanket is more sentimental than the others. Many of us remember that one blanket that we kept for years of childhood. If we're lucky, we still have it as adults and keep it close.

Preemie: Preemie blankets are perfect for premature or small babies. These baby blankets are often small squares. The preemie blanket sizes range from 15 inches x 15 inches to 24 inches x 24 inches.

Preemie blankets are meant to cover a premature or newborn baby. Sometimes they cover the entire bassinet, which would require a larger size.

Stroller: Stroller blankets are the most consistent in size when it comes to baby blankets. Stroller blanket size is nearly always 30 inches x 36 inches.

Stroller blankets are aptly named. This type of baby blanket is meant to stay in or cover a stroller. This will keep the baby warm and protected from the elements when out and about. It's an important blanket and is made to fit conventional strollers.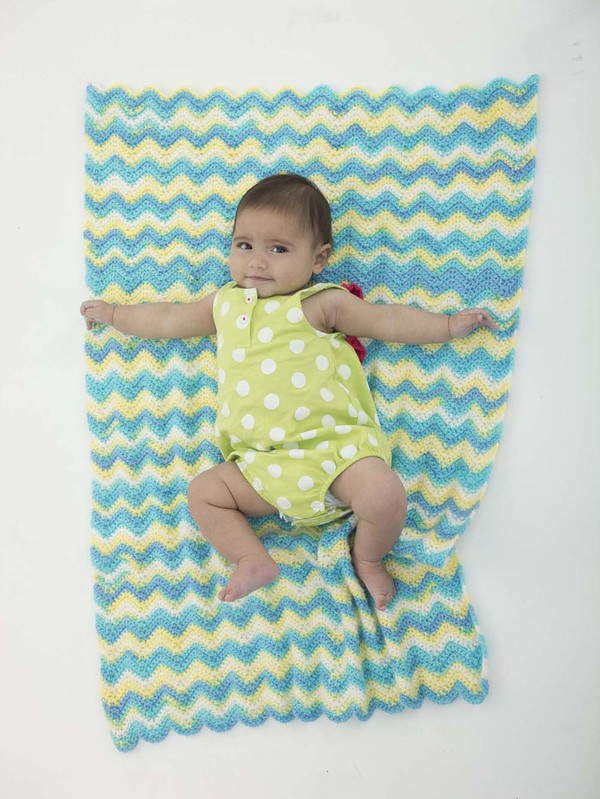 Receiving: Receiving blankets can range in size from 36 inches x 36 inches to 40 inches x 40 inches. They tend to be squares because of what they are used for.

Receiving blanket size ranges because they are used for many different tasks. Receiving blankets can be used to cover a nursing mom or car seat, they can be used as emergency changing mats or burp cloths when nothing is available, and so much more. Because of this, they may be the most important blanket to give to a new mom. 

Swaddle: Swaddle, swaddling, or swaddler blankets are also squares, ranging from 45 inches square to 48 inches square. Again, size of baby is the most important part when choosing a baby blanket size for this type.

Swaddling blankets are really about comfort for baby. Babies feel best when they are securely held. Besides a mother's arms, swaddle blankets are the next best thing because they wrap around the little one. They mimic the tightness of being held but they allow mom or dad to keep their arms free!

Toddler: Toddler blankets, as you can imagine, are made for larger children. Toddler blanket size, again depends on the child but usually range from 40 inches to 60 inches.

These blankets are rectangles which mean they can be used as a general blanket for the toddler to use when sleeping, sitting down, or walking around. It's a kid blanket size to help them stay warm without adding too much bulk.

Crib: Crib blanket size varies by the size of the crib and how much of it you want to cover. Made in rectangles, the size ranges from 36 inches x 54 inches to 45 inches x 60 inches.

Crib blankets can be bought but the benefit of crocheting them is that you can customize the size, color, and stitch style. It's not only a useful blanket but it's a decorative blanket as well for the baby's room.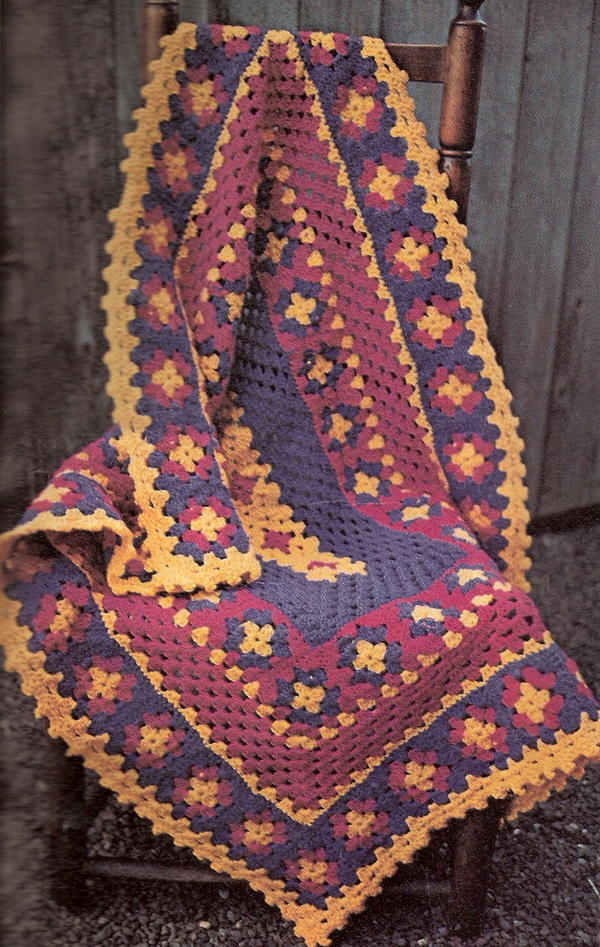 Crochet Baby Blanket Size Chart
Here is a handy baby-specific crochet blanket sizes chart. It goes by size, smallest to largest. An important factor to keep in mind is that these sizes are simply a general guide for you. You can easily add a few inches to the width and length of any blanket to customize it for what you want.

That's why the chart shows a range for both width and length. Below the chart, you can see the specific common sizes for each type.



| | Width Range | Length Range |
| --- | --- | --- |
| Lovey | 10-12" | 10-12" |
| Security | 14-17" | 14-17" |
| Preemie | 15-24" | 15-24" |
| Stroller | 30" | 36" |
| Receiving | 36-40" | 36-40" |
| Swaddle | 45-48" | 45-48" |
| Toddler | 40-44" | 50-60" |
| Crib | 36-45" | 54-60" |
Common Sizes:
Lovey: 10" x 10"; 12" x 12"
Security: 14" x 14"; 16" x 16"; 17" x 17"
Preemie: 15" x 15"; 18" x 18"; 24" x 24"
Stroller: 30" x 36"
Receiving: 36" x 36"; 38" x 38"; 40" x 40"
Swaddle: 45" x 45"; 47" x 47"; 48" x 48"
Toddler: 42" x 52"; 44" x 50"; 40" x 60"
Crib: 36" x 54"; 45" x 60"
 
Baby Blanket Patterns
Crocheted baby blankets are definitely one of the top-searched crochet items. There are so many baby blanket patterns available, especially when it comes to specific types.

This list contains some of the top baby blanket patterns featured on AllFreeCrochetAfghanPatterns. You will different types, from loveys to crib blankets, then some general baby blankets that range in size - compare the size to the chart to see whether they are security, stroller, preemie, or another type of blanket.
Darling Elephant Crochet Lovey (pictured below)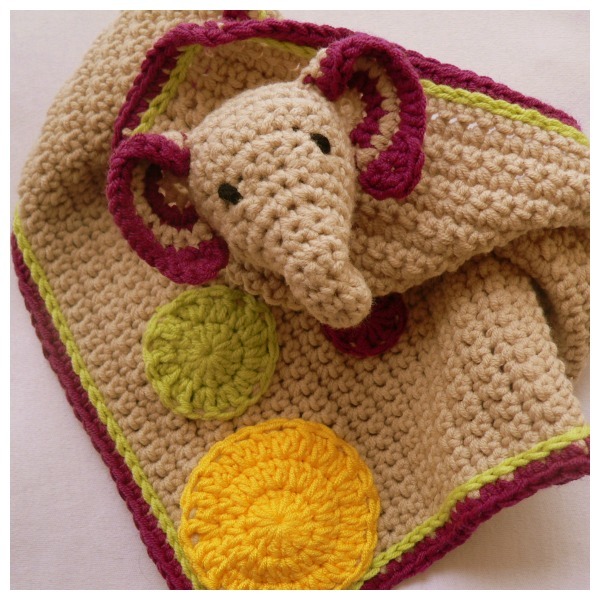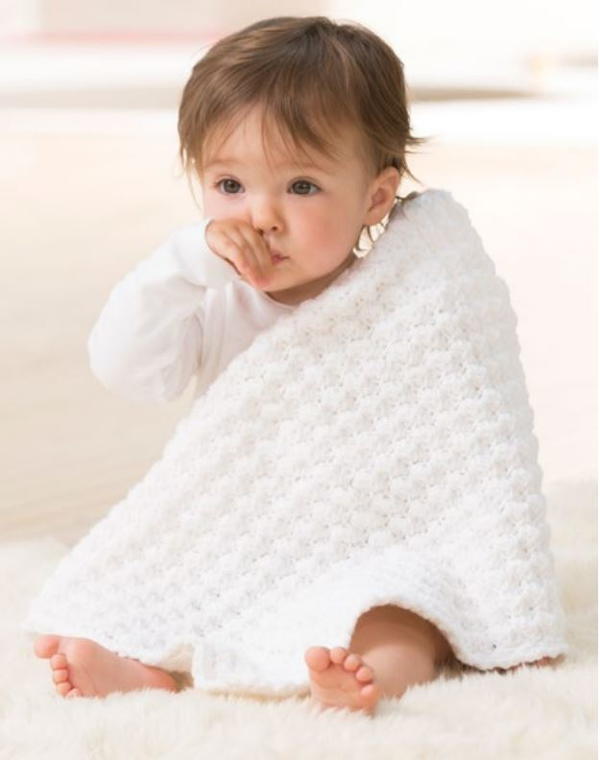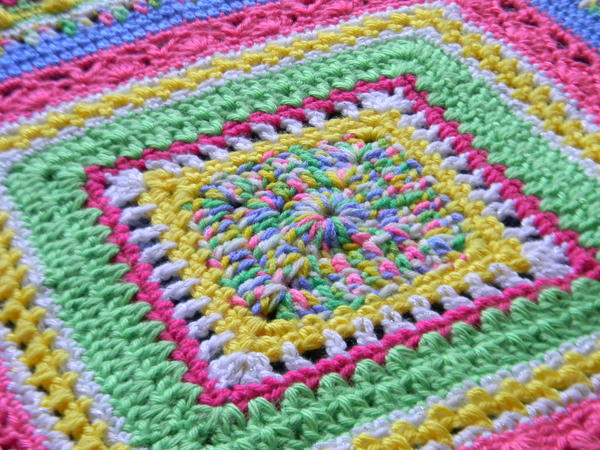 What type of baby blanket do you make most often?
Tags / Related Topics
Your Recently Viewed Projects
Images from other crafters

Free recipes, giveaways, exclusive, partner offers, and more straight to your inbox!
Project of the Day
If you are looking for a chic, yet classic baby blanket pattern you will love this one. This crochet afghan pattern has a bit of a… See more

Something worth saving?
SAVE all your favorite patterns
ADD personal notes
QUICKLY reference your patterns