All About Tunisian Crochet: How To + 7 Tunisian Crochet Patterns
Learn how to crochet Tunisian stitch and check out some beautiful patterns to practice your skills.
By:
Kathryn Abrams, Editor, AllFreeCrochetAfghanPatterns.com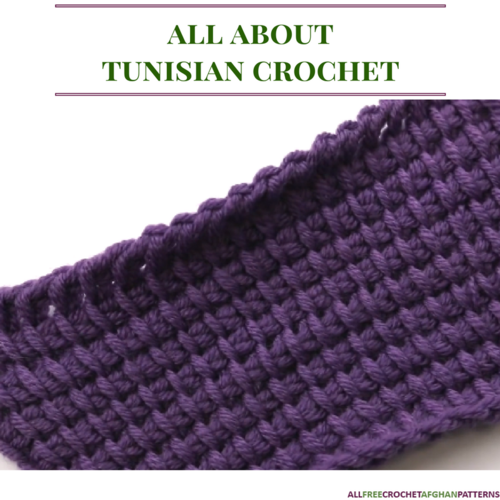 All About Tunisian Crochet
If you're interested in learning about Tunisian crochet, then you've come to the right place. This handy guide will teach you everything you need to know to master this wonderful stitch.

This particular stitch goes by many other names, including Afghan stitch crochet, Tricot crochet, Shepherd's knitting, Railroad knitting, and Cro-hooking.

Similar to knitting, Tunisian crochet is a type of crochet that holds multiple loops on the hook. It differs from knitting in that it uses a crochet hook, not knitting needles.

However, the result is a beautifully textured fabric that wonderfully combines the best of both knitting and crochet.

This technique creates a dense and squishy fabric with a beautiful texture. When working this stitch, the front side of the fabric is always facing you.

According to purlsoho.com in their article, "Tunisian Crochet Basics," Afghan stitch crochet is generally created by alternating "forward" and "return" rows. The forward row moves from right to left as you pick up stitches, leaving them on the shaft of the hook. The return row moves from left to right as you remove the stitches from the hook. You are essentially zig-zagging back and forth in order to complete the stitch.

In other words, unlike most other crochet stitches, crochet stitches created in the Tunisian style require you to work each row in two passes.

With this helpful guide, you will be able to create a beautiful afghan utilizing Tunisian stitch crochet in no time. There's no need to worry, because although it may look like a complicated technique, it's really not difficult to learn if you pay close attention and practice.
What is Tunisian Crochet?
For a crocheter with so many different stitches at your disposal, it can be difficult to figure out when and how to use a certain technique. You no longer need to wonder what is tunisian crochet, because this handy guide will tell you everything you need to know - from the different names used for this stitch to the special tools it requires. Read below to learn more and don't forget to keep scrolling to see some of our favorite free crochet afghan patterns using this beautiful stitch.
Tunisian Crochet Hooks
Most crochet techniques do not require any special tools beyond what you already have in your craft closet, but this unique stitch is an exception. The technique is best completed by purchasing a set of special Tunisian crochet hooks, or, as they're also called, Afghan crochet hooks.

According to Kathryn Vercillo in her redheart.com article entitled, "Ultimate Beginner's Guide to Tunisian Crochet," Afghan crochet hooks are longer than regular crochet hooks, which allows you to hold the loops on the hook as you do in knitting. In this manner, they look like knitting needles with the head of a crochet hook on one end.

The needles also have a blocker at the other end to prevent the loops you hold on the needles from falling off.

If you simply want to test out a few stitches prior to buying the designated needles, you can use your regular crochet hooks, but keep in mind you will be limited by the small size of your hook.

You will need a double-ended crochet hook when working the stitch in the round. There are also straight hooks, which simply resemble knitting needles with the head of a crochet hook on either end. In addition, circular crochet hooks have a cord running between two crochet hooks. If you are crocheting very long rows, the cables can also be used for holding your loops.

According to purlsoho.com in their article entitled, "Tunisian Crochet Basics," you should choose an Afghan crochet hook at least two sizes bigger than the hook you would normally use with the same yarn. Choosing the right size hook, as well as working as loosely as possible, will help prevent curling of the fabric.

The fabric created by the Tunisian method is slightly less elastic than normal crochet and substantially thicker, particularly the knit stitch. As a result, blankets and winter knits are ideal Afghan stitch crochet patterns, while finer items such as baby items and socks are less ideal.
This image illustrates the length of the crochet hook.
How to Crochet Tunisian Stitch
The beauty of Tunisian crochet stitches is there is no limit to the variety of different stitches that can be created. Depending on how and where the hook is inserted and how the working yarn is held, this amazingly versatile technique can mimic either knitting or weaving, and include variations on knit, purl, post stich, entrelac, cables, ribs, laces, textured stitches, etc.

Though every pattern is different, this Afghan crochet stitch tutorial will help you learn the basics that you can apply to any crochet pattern. Follow along with the step-by-step instructions and photos below or click here to watch the video tutorial and follow along with our instructor, Chris.
Work your chain, holding afghan hook like a regular hook, just like regular crochet.

Forward pass: Go into 2nd ch from the hook. Yarn over and pull up a loop. Leaving the newly pulled up loop on your hook, go into the next chain and repeat. Work your way down your chain, picking up stitches and leaving them on your hook.

Backward pass: Yarn over, pull through one loop. *Yarn over, pull through two loops* - Repeat from * to * all the way through the row.

After the backward pass, we'll be picking up stitches again. To do this, we go through the long bar from the stitch below. Work down the row and be sure to pick up the very last bar to keep your ends neat.

Work the backward pass again, as before.

Repeat the forward and backward passes as many times as the pattern calls for.

To end your project with a nice, neat edge, work a modified slip stitch: Go down the row as with a forward pass, picking up stitches, but instead of leaving each picked up loop on the hook, pull each hook through both loops, leaving one loop on your hook before you go through the next long bar.

A finished swatch of the Afghan stitch.
Afghan Stitch Crochet Patterns
Now that you have learned how to complete the stitch, it's time to put your skills to work! The patterns below range in skill and style, but all involve the Afghan crochet stitch. Keep in mind it is slightly faster to create fabric using the Tunisian method than normal crochet, and approximately twice the speed of knitting.

You are going to love the versatile nature of the Tunisian method. These patterns are just the start. To find more patterns, check out this page!
Learn the Tunisian Stitch
For a full step-by-step visual tutorial of this stitch, be sure to check out this video.
Why do you love Tunisian stitch crochet?
Free projects, giveaways, exclusive partner offers, and more straight to your inbox!
Tags / Related Topics
Your Recently Viewed Projects
Images from other crafters


Something worth saving?
SAVE all your favorite patterns
ADD personal notes
QUICKLY reference your patterns