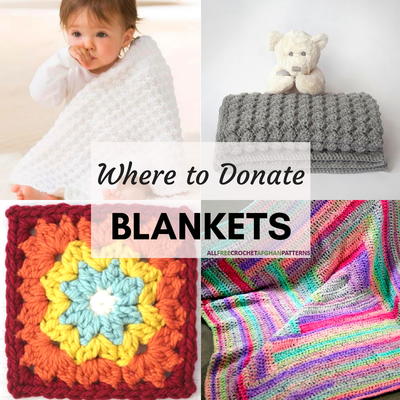 Where indeed! Chances are you've asked this question because you've crocheted a blanket for just about everyone in your life and you're looking to spread the love around a bit more. But, whether you have a pile of crochet blankets just sitting in the closet waiting for a happy home or you're looking for a charitable project (or seven!) for the upcoming holiday season, this convenient list of charitable organizations that specialize in blanket donations will help you give someone in need the gifts of warmth and hope. These organizations accept and facilitate donations 365 days a year. Some of the charities work locally, some nationally, and some internationally, though all have U.S. addresses where you can send donations. Find one that speaks to you! Or even two or three!

Your crochet hook is a powerful tool that can give people hope, help comfort them, and even provide life-saving protection against the cold. So put those hooks to extra good use with your next project and work up some warmth for a sick child or a wounded veteran or even a shelter dog or cat. Then take a picture of your project and post it in the comments at the bottom of this page to encourage others to follow in your generous stitches!

Paired with each charitable organization is a suggestion for a suitable quick and easy crochet blanket pattern. Just a small amount of time and yarn can make a big impact in a child's, adult's, or animal's life!

Some Things to Keep in Mind:
Use soft and machine-washable yarn when you're hooking these blankets so recipients stay cozy and blankets can be easily cleaned.
Use patterns that don't create a lot of holes in the fabric because most of these blankets will be used for warmth as well as comfort.

This note is especially important for blankets made for use in hospitals because IVs and other hospital equipment can get caught in holey fabric.

All of these non-profits need financial support, so if you're unable to contribute a blanket or a square, you can give some green. Each organization's website has a quick and easy form you can fill out to help facilitate the mission of warmth and hope.
Table of Contents
Where did you end up donating a blanket? Please share a photo of your contribution in the comments below!
Your Recently Viewed Projects