Security Blankets Charity Drive 2018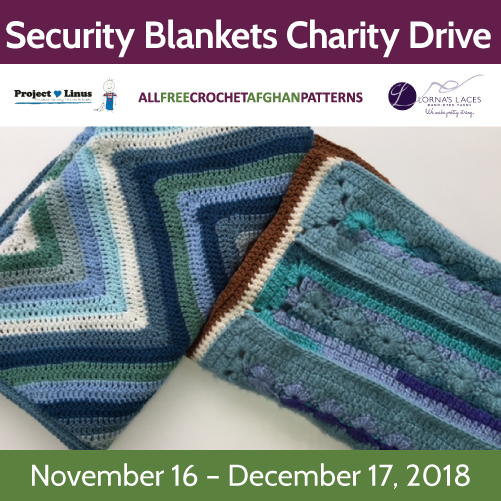 AllFreeCrochetAfghanPatterns is partnering with Project Linus and Lorna's Laces to host a Security Blankets Charity Drive for sick and traumatized children in need of warmth and comfort.

From November 16 to December 17, 2018, we will be collecting your beautiful blankets to donate to Project Linus.

Children find solace in snuggling blankets, especially those handmade with care and compassion. And kids who have been through an illness or other traumatic experience are extra in need of comfort. So become a "Blanketeer" this holiday season and nourish the little heart of a grateful child with your handmade security blanket!

SCROLL DOWN for NEW BABY BLANKET PATTERNS

Share Your Progress: We'd love to see how your blankets are coming along! Post your progress on social media with the hashtag #YarnItForward.

PLUS, when we receive your blanket, you'll be entered to win a stellar hand-dyed yarn bundle from Lorna's Laces!



Send Your Completed Blankets to:



Prime Publishing, LLC
Attn: Security Blankets Charity Drive
3400 Dundee Road, Ste. 220
Northbrook, IL 60062

Note: Your donation must be postmarked by December 17th for contest entry.

CLICK HERE for your free  Laying It All Out  SO YOU NEVER MISS A BLANKETEER UPDATE!
MAKE A BLANKET (General Requirements)
For contest entry: please make sure to include a note with your your name, address, phone number, and email address.
Blankets can be square or rectangular with each side measuring AT LEAST 36 inches; they can be crocheted, knitted, quilted, or tied-fleece.
Blankets created or stored in a smoking environment cannot be accepted under any circumstances.
Do not create any blanket near peanut butter or nuts of any kind.
Wash and dry blankets created in a home where there is a pet. Check for pet hair on the blanket and place in a plastic bag before donating.
Do not attach any embellishments, such as buttons, sequins, or ribbons to the blankets.
Do not use any fabric or yarn that has been exposed to mold or mildew.
CROCHETED & KNITTED BLANKETS
Use acrylic (washable) yarn, not wool, in child-friendly colors.
The pattern should not create large holes where fingers or medical equipment could get tangled.
Remember to weave in at least a 4-inch tail of yarn when finishing.
NEW BLANKET PATTERN #1
Little Brother/Little Sister Security Blanket 
Hook this stunning yet easy security blanket, a NEW PATTERN designed by UndergroundCrafter.com especially for our 2018 Security Blankets Charity Drive!

CLICK HERE for NEW SECURITY BLANKET PATTERN!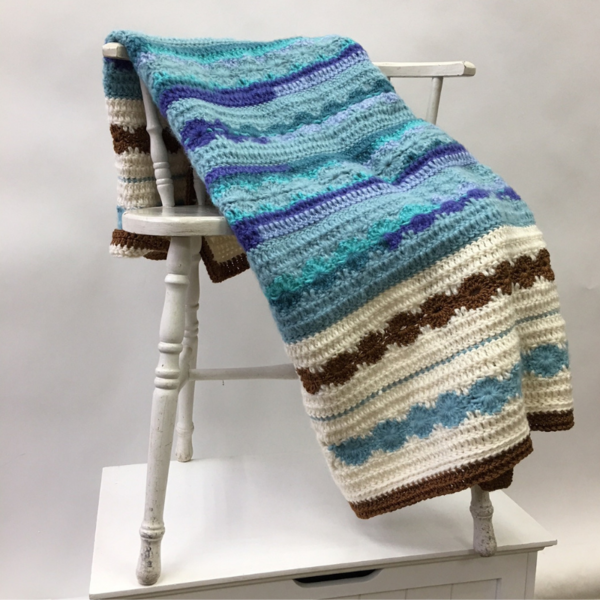 NEW BLANKET PATTERN #2
Soulful Sierra Security Blanket
You won't believe how easy it is to hook this beyond beautiful NEW PATTERN for a child in need. Thanks to CypressTextiles.net for this gorgeous original design created especially for our 2018 Security Blankets Charity Drive!

CLICK HERE for NEW SECURITY BLANKET PATTERN!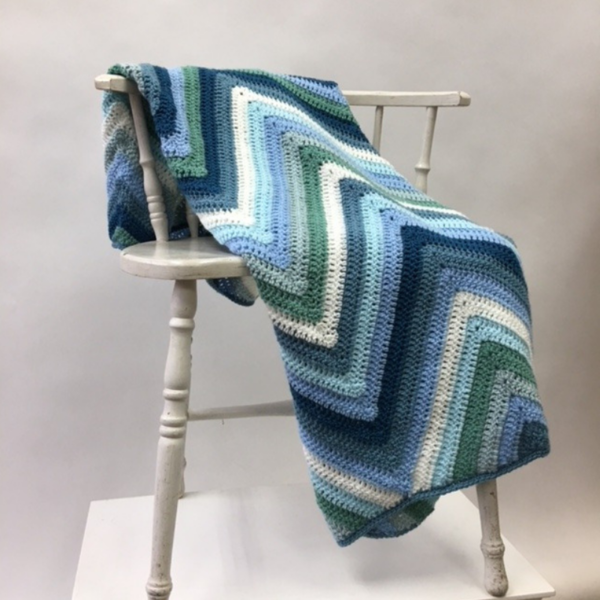 Chevron Stripes Crochet Baby Blanket
Bundle in Blue Crochet Baby Blanket Pattern
Knit-Look Chunky Afghan
Falling Petals Afghan
Cotton Candy Crochet Baby Blanket
33 Quick and Easy Crochet Blanket Patterns
These 33 Quick and Easy Crochet Blanket Patterns offer a wide variety of simple blanket patterns that would work beautifully as security blankets for our charity drive!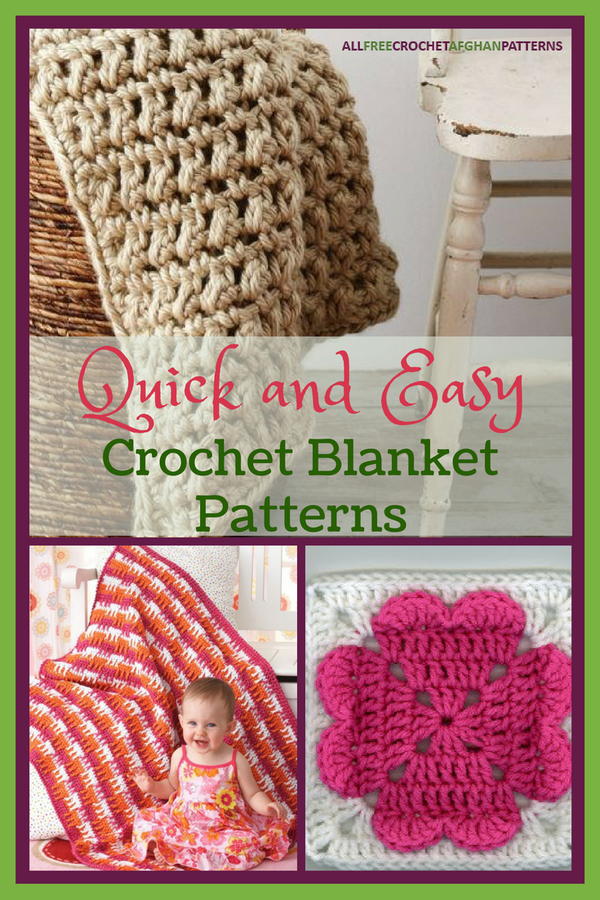 Your Recently Viewed Projects