67 Reader Submitted Yarn Organization Tips
Find yarn storage ideas and other tips from our readers and get organized while you crochet.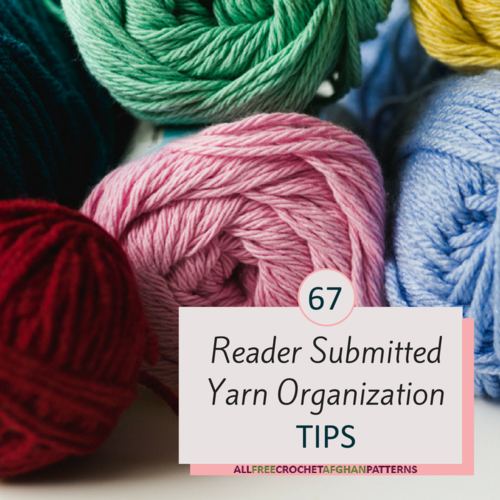 Got stash? We all do! That's why we asked readers for their best organizational advice. With 67 Reader Submitted Yarn Organization Tips, you'll discover new and great ways to tackle your yarn and organize it in the best way possible.

From plastic bins to closet organizers, theses readers have found yarn storage solutions that work for them. Give one of them a try today!

If you crochet, then you know how difficult it can be to stay organized. That's why we asked readers about their yarn storage and how they stay in order.

Like what you see? Check out more great tips in 52 Clever Yarn Organization Solutions by Readers.

 
Yarn Organization Ideas: Boxes & Plastic Bins
Storing yarn in stackable boxes or plastic bins is one of the most common ways to organize. These readers have a method to their madness so check out just how they sort their yarn and what types of bins and boxes they use.
"I store my yarn in clear plastic tubs by brand. I also have quarter skein or less yarn wrapped around a clothespin and the end of the yarn clipped at the end of the clothespin so it doesn't unravel. These are all stored in a clear plastic tub." - Lynn G.


"I have my wool in airtight clear plastic tubs. Cotton and acrylic are in assorted bins and boxes." - Ellen G.
 
"My craft room is a mess…but my yarn is stored by weight in plastic tubs and sturdy boxes with lids." - Robin J.
 
"I have four big stacking see-through bins that I sort my yarn in. It's handy, since I do not keep a large stash of yarn on hand." - Ritainalaska
 
"If I get yarn, I bring it to my attic and put it in the bin of its color – written on the front and sides of each bin." - Laura W.
 
"I store mine in 5 different clear plastic tubs. They are organized by weight, starting with finger and lace in one all the way up to super bulky in the final bin. The bins get stacked floor to ceiling in the closet. Gets tough when I have to un-stack the whole tower to get the bin in the bottom!" - Lynn H.
 
"I have 8 large plastic tubs and 2 cube shelves with cloth bins, all full of yarn!" - Stacy R.
 
"I had been storing mine in individual plastic shopping bags divided by project. I've now switched to plastic tubs, some small ones in the little food storage containers available at the grocery store. I still have some older projects in bags, but I'm working on it!" - Tina"
 
"I have office file boxes (the collapsible type) stacked on their side for yarn, thread, and one for wire. A box of completed projects on top; and three storage bins filled with plastic grocery bags ready to be made into plarn. Another space is set aside for hooks and other crochet necessities. And If I have to take a project or two or three on the road, I just grab one of the grocery bags and put the yarn and project in it. Keeps the yarn neat and the projects separated." - Douglas H.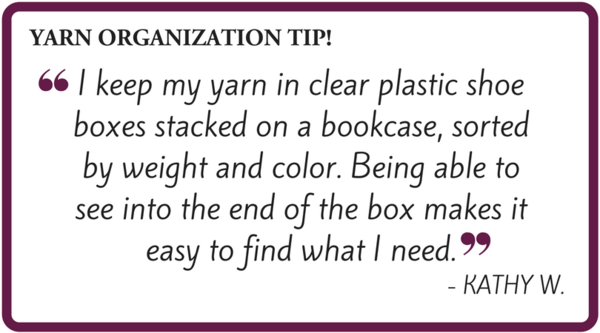 "I have large clear storage bins… My supply is divided by type: 4 ply, 3 ply, baby, fancy and thread… Since I have the most in 4 ply, it is divided by color… I also use the clear storage bins to store finished product until needed; I drop several dryer sheets in each bin to remove some of that new yarn smell… The bins keep the yarn dust free…" - Happy-Dancing Willow
 
"I organize by color – in clear containers so I can let the colors inspire me to create." - Amber
 
"I have stacks of plastic drawers. I sort my yarns by color, accumulating various weights. Specialty yarns get a drawer of their own." - Ann
 
"When a computer paper order comes in to the office I nab the empty boxes. They hold quite a bit of yarn that can be organized by type and color and best of all they stack very nicely & can be hidden away at the back of a closet." - Marion H.
 
"I sort my yarn by fiber content and in plastic containers with tight lids to keep out anything including my cat who loves to unwind wool and alpaca yarns. Baby yarn is in a separate bin." - Virginia G.
 
"I keep my yarn in clear plastic shoe boxes stacked on a bookcase, sorted by weight and color. Being able to see into the end of the box makes it easy to find what I need." - Kathy W.
Yarn Storage in Plastic Bags
Whether you want to use grocery bags or bags that zip closed, these readers have found great ways to utilize simple plastic bags to their advantage.
"My yarn is in large clear plastic bags that zip and have handles." - Mikahla R.
 
"I store my yarn by type & fiber in spacebags & freezer bags, all shoved carefully into an old wardrobe." - Tammy K.
 
"I store mine in large zip lock bags with the label so I can see what I have on hand. These are stored in plastic bins by colors." - Betty H.


"I organize it by color in clear plastic bags and bins." - Leslie B.
 
"I organize my yarn in ziplock bags; they make some pretty big ones!" - Cherryl
 
"My yarn is in Ziploc bags, then in boxes. It's separated hierarchically: weight, fiber, then color." - Jessica P.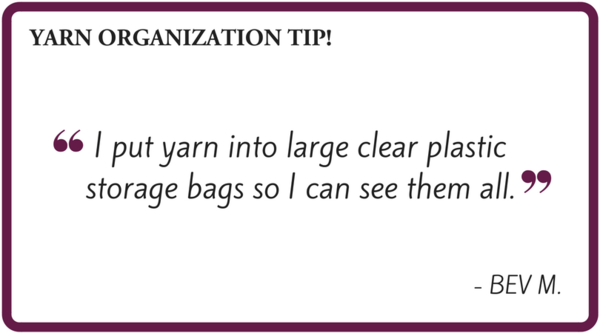 "I use Zip lock type clear plastic bags, I get them in the XL (10 gal) size, they hold quite a bit of yarn, and if you need something out of the bag they are easy to get the excess air out (I sit on them) and reseal and stack fairly well as they have squared bottom, I live in an area that has a lot of insects and high humidity so this keeps my stash bug proof and free of musky odors." - Harriet W.
 
"I have my larger skeins of yarn and some cones stored in very big zippy bags. The smaller skeins I have in the sweater-sized bags that you roll up and squish all the air out." - Wendy M. 
 
"Things that I do on a regular basis or small projects are stored in plastic zipper bags that my mom saves for me when she buys new sheet sets. They are stored by yarn type and projects so it is easy to find what I want to work on." - Melissa B.
 
"I put yarn into large clear plastic storage bags so I can see them all." - Bev M.
Yarn Organization Using Bags and Totes
Taking your stash on the go? It's best to be organized so you know just where your yarn and hooks are at any given time. Take it from these readers, they have some great tips!
"I have a lot of my yarn in a HUGE bag, although it doesn't all fit, along with my knitting needles & crochet hooks in the pockets." - Mary P.
 
"I have my yarn stored in totes. I got a whole lot from my mother in law and she gave me the totes, so I just added my yarn to them." - Antonia
 
"I love to use clear plastic storage totes for my yarn storage. Then I can more easily see what I have!" - Sabrina
 
"I use the food saver bags to keep the yarn for different projects separate and the fabric shopping bags for what I'm currently working on." - Kae
 
"I store new skeins in clear totes on shelving so I can "see" what I have. Yarn bought for specific projects is stored in clear totes with the pattern. Yarn scraps are stored in totes by weight. Of course, there is probably a bag of new, just couldn't resist it, yarn hidden in the closet." - Danette P.
 
"I have a method to my madness. Some yarn is in totes and some in a closet but I have it sorted by the ones I am most likely to use first. So the yarn I love but don't have any idea what to make with it yet, it goes in the tote. If I have some ideas or I know I want to make something with it very soon then it goes into the closet for easier access." - Emily
 
"I store my yarn in cloth bags, that way when searching for yarn for another project, it's like a treat or I've gone shopping!" - Rita G.
 
"I store my yarn in plastic totes. When I'm using it I put it in reusable grocery bag." - Brandy W.
 
"I have my yarn in large totes. It is organized by pastels, darker colors, misc. smaller skeins. I also have a tote with Christmas colors." - Kay S.
 
"My yarn mostly lives in plastic totes. Current projects have either their own basket or bag." - Kristen B. 
 
"I have sorted it by color, with special categories for baby, Homespun, Pound of Love, specialty yarns. The go into clear plastic bins so I can see them. My WIPs go into zip plastic type bags, then into a bin in the closet, with the wrappers from the yarn & a copy of the pattern. Finished projects are also placed in zip plastic bags (the larger storage type I get at the dollar store). I add a dryer sheet and stash then in bins in the closet too. This way I can instantly see what I have on hand, quickly grab a WIP and a hook for traveling, and have instant gifts that smell fresh and clean." - MP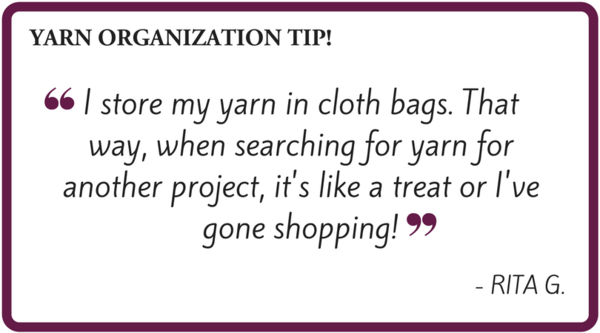 Ways to Organize Yarn in Cubbies and Closet Organizers
Closet orgnaizers in various shapes and sizes are great storage solutions for any crafter. These readers have some clever ideas for using cubbies, over-the-door shooe racks and more to store their crocheting supplies.
"My yarn is stored in cubbies like the ones they have in school and in the stores. It is organized by color and weight, so it does look quite decorative. Also when you pass by, it gives you an urge to finish the project that you are working on and to begin another." - Virginia B.
 
"I store my yarn in three of the 8 cube ClosetMaid cubicles stacked on top of each other. I organize my yarn by color, weight, and cotton, wool, acrylic, or specialty.  I also have three crates on top of the cubicles and still have more yarn that doesn't fit." - Lori K.
 
"I was forced to go verticle with my stash. I invested in several (plush toy hammocks) and hang my oodles of yarn from the ceiling!" - Wanda
 
"My hubby helped in organizing my yarn. We bought a clothing rack with extenders on both ends along with four closet sweater organizers. I sorted my yarn by color. Each section holds at least nine skeins of yarn. I also put one in the closet of my "craft room". I need to buy another rack and some organizers. I love that I can see all of my yarn and that you can push it right up against the wall. More room for more yarn and crafting supplies!" - Jolene H.
 
"I have shelves in a closet where I store most of my yarn. I would like to have a peg board on the door to store my threads, but right now they are in plastic bags "recycled" from sheet purchases." - Carmen
 
"I store my yarn in storage tubs with a tight lid…However, when room gets tight, and I haven't put the yarn into a ball yet, I put skeins into an old shoe divider..skeins fit perfectly and it hangs on the closet rod..out of sight!" - Lisa M.
 
"I store all of mine in several different spaces. LOL! Small house! I have a book shelf full with skeins of yarn organized by color. I also have several cushioned collapsible decorative boxes that are full of smaller rolls and odds and ends. I have a closet hanging organizer (meant for sweaters) also full of yarn and last, but not least an ottoman with storage that is just over flowing. I try to organize by color, texture, and brand." - Valerie M.
 
"I have cube organizers and sort by color family when possible." - Elizabeth
 
"The majority of my yarn is stored in those hanging cloth shelf units. I store my scrap yarn (all those little balls) in an over-the-door shoe organizer by color." - Nicole K. 
 
"I have a shelving unit which gives me 16 large cubbies to store yarn in. I organize them by fiber and by weight, so, for example, one cubby is for cotton worsted, one for wool DK, etc." - Stephanie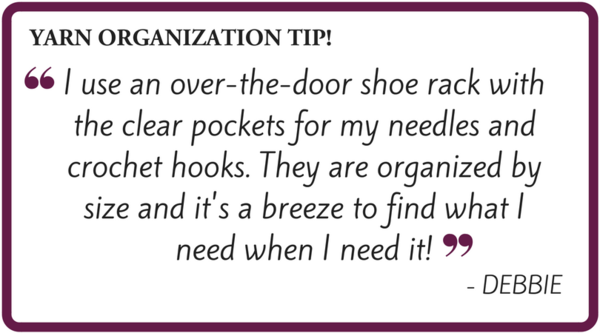 "I have a stacking cart right now that stores some of my yarn. When I get my craft room fixed up, I want to use crates as will be easier to see and use the cart for projects only." - Tina H.
 
"In my new house, my husband conceded to letting the HUGE "linen closet" in our hallway become the yarn closet. It's all organized by color. When I open the doors, it's like a rainbow of fiber! Love it! I also have a couple small storage cubes in there with remnants I will find a use for… some day!" - Liz G.
 
"I use cubed shaped bins that are stacked like shelves. Then I organize them by new, used, or balled. You can see the colors easily, and I know how much of colors I have. I have set dedicated to worsted and a set dedicated to specialty yarns!" - Kristine
 
"I have my yarn by brand in milk crates stack like shelves in my craft room. It is over flowing into boxes stacked on the floor in front!" - Rae
 
"My yarn is in canvas containers in a bookcase. It's 2×4 and I have 4 boxes for yarn, the other 4 spaces have cross stitching or assorted supplies." - Julia
 
"I have a full closet of shelves and they are organized by brand, weight, fiber, and color in that order with the exception being my handspun yarns which are kept together." - CJ
 
"I have several cabinets that you put the soft bins in. I get the ones that hold 8 bins have them standing upright. I can put at least 10 skeins in each bin, so I can separate by project or color. 1 cabinet would then hold 80 skeins." - Barbara R.
 
"As many as I can, I put in shoe "shelves", the square cubbies, in the closet of my sewing room. The rest are stored in clear boxes by weight." -AFCAP Reader
 
"I use an over-the-door shoe rack with the clear pockets for my needles and crochet hooks. They are organized by size and it's a breeze to find what I need when I need it!" - Debbie
 
"Recently I acquired a book case from my daughter and had my husband turn it on its side and made cubies so I now can see better what I have!" - Roylene N.
 
"I store my yarn in plastic tubs as well as in my closets." - Maryann
 
"I store by weight, then color. Not real worried about yarn content, I like to mix it up now and then. I got those things you hang in your closet on the rod, that expand to make "shelves". It's great! I can see everything right away when I'm starting a project!" - Kim M.
 
"I recently purchased some of those hanging shoe organizers for the closet and stuffed a few skeins per opening. It isn't too heavy and fits nicely into the craft closet." - Melissa
 
"I bought an organizer that has 16 cubbies. I had to buy boxes to go in each cubby because my kitten is as much of a fan of yarn as I am. I currently have it sorted by color, but have decided that one weekend I will sort it by weight instead. Also, the boxes have holes in them instead of handles and I need to tape those up because the kitten keeps pulling the yarn through them." - Jenna W.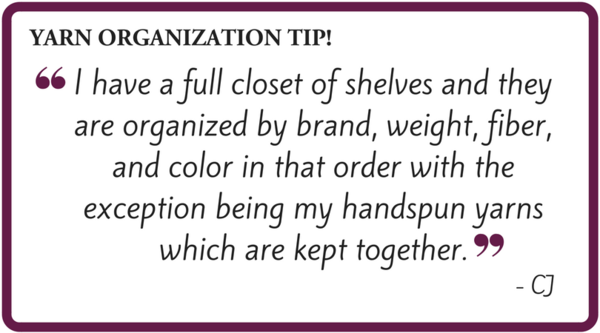 Large Yarn Stash Storage Solutions
"I have A LOT of yarn so I had to find a way to organize it all. All my yarn is stored in big stackable totes that are numbered. I take 1 skein of each color/brand and put a stringed tag on it with info on yarn: number of skeins, yardage per skein and the tote number it is stored in. Each single skein is stored in an under-the-bed storage tote by brand. When I want to start an afghan project, I can open the under-the-bed tote and see what colors I like together. Maybe do a swatch before I go to the tote/totes the rest of the yarn is stored in. Then I pull all skeins of the yarns I've chosen and put in big shopping bag. When the project is done I re-label the single skein and put all the yarn left from project away. System works great if you keep up with it." - Lois
 
"I have my yarn stored in cubbies, bins and closet organizers. I have so much yarn I can't keep track of it all. I have it mostly sorted by fiber, but I have one bag with current projects that are usually all mixed." - Tara
 
"I have my yarn stored in 12 see through plastic tubs." - Melissa
 
"I am lucky to have a walk in hall closet with drawers – 9 drawers! the yarns are sorted into drawers by fibre content & weight. Then in my room — I have yarn in baskets sorted by project, with the necessary needles etc in each basket so I can just grab one to work on something. I have had them in plastic stacking drawers & have a huge stash in a fabric pop-up bag designed for collecting leaves in the yard! yes I have THAT much yarn stash!" - Kim W.
 
"My yarn has grown & grown. I used to have it in so many different bags in too many places until I found some awesome 'cubes.' They are a shelving unit that has 9 square cubes for shelves. I have 2 units & haves each cube filled with a different color. Some red, some blue, etc. One cube has my buttons, beads, ribbon etc. One cube has my threads & cross stitch colors. Then a final one has some of my more frequent books. It's completely wonderful!" - Kyra M.
 
"I use a yarn drum from my mother-in-law holds current project yarn, a small bin for UFOs, large bag for "I may need these soon" yarns, a large bin for my chunky & fancy yarns in the closet, two wrapping paper bins for skeins of yarn. Then I use bags and brown lunch sacks for small balls of yarn and project organization… it's a lot! I have another pouch for the labels from the skeins of yarn so I can reference what I used on what projects." - Angela M. 
 
"I use the hanging cloth cubbies shoe storage and sweater storage shelves I purchased at home improvement stores. They are just deep enough and wide enough to carry enough yarn for a project or more. I also use cedar boards in my closet to keep everything fresh and moth free. The closet is in the bedroom of my youngest child who is out of the nest and in college out of town! The closet keeps the yarn dust free as well and since the organizers are clear, it is easy to see every color. I also use the over the door jewelry hangers with the pockets for storing beads and buttons and other embellishments. They are also perfect for that last bit if scrap yarn which may be needed later or used in scrap project or for repairs. (thankfully no repairs needed yet)." - Paula M.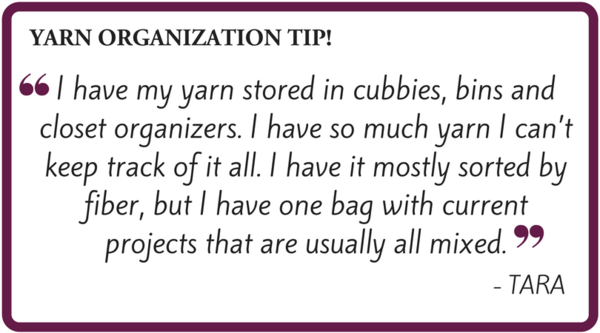 What tips do you have for yarn organization?
Let us know in the comments section below!
Your Recently Viewed Projects