Stitch Nation by Debbie Stoller Bamboo Ewe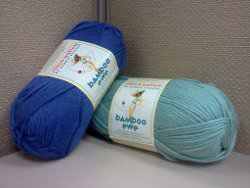 Bamboo Ewe is a yarn lover's dream. It is one of the many yarns that is part of the Stitch Nation by Debbie Stoller yarn collection. You'll find that the colors are bright and friendly, perfect for adding a little spirit to any knit or crochet project. And the color names are fun too--Snapdragon, Mermaid, Eucalyptus.
Each skein of Bamboo Ewe has a faint sheen along with a soft haze. It's smooth and to the touch but definitely can be used to work up a warm and fuzzy project. Create cozy crochet baby blankets and toasty accessories with this lovely yarn. Bamboo is often known for it's softeness, but blend it with wooly wool and you have a yarn that's to die for.
Your Recently Viewed Projects