Lion Brand Ice Cream Yarn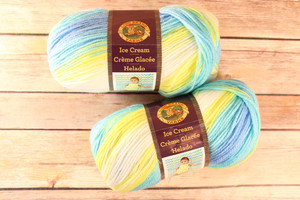 Lion Brand Ice Cream Yarn
Gifted by: Lion Brand
www.lionbrand.com
Reviewed by Christine Weiher, Editor, AllFreeCrochetAfghanPatterns

As I'm 38 weeks pregnant and almost done working up a crochet baby blanket I realize how much I truly love this yarn. When I first started working with it I thought to myself "why didn't they name this cotton candy?" Every time I came to the purple, pink, blue color combo it really did remind me of cotton candy. Lo and behold, that's the name! Silly me, pregnancy brain really does exist. The colorways of Ice Cream yarn are really neat to watch as your piece works up; you never know what kind of pattern will come out of it, which is why it's so exciting! The yarn is super easy to work with and doesn't fray if you have to rip it out. What I liked about the skein itself is that it was spun in a way that made it easy to pull from. Usually a center pull is what I like best because it causes the least amount of headache, but Ice Cream yarn is easy enough to pull from the skein as it just kind of "falls" off. This yarn truly is great to work up crochet blanket patterns with, especially baby blankets. Aside from Cotton Candy, other colors to choose from are Cookies & Cream, Banana Split, Lemon Swirl (shown above), and Tutti Fruitti just to name a few. Well now I just want to go out and get some ice cream; well done Lion Brand, well done.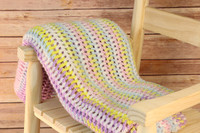 Pros:
Easy to work with
Beautiful colorway
It's exciting to see how the crochet design will turn out since you never know when the color is going to change.
Cons:
Although my yarn had the same dye lot number the yellow seemed to be a bit off from one skein to the next. One was more pastel while the other was more bold. However, it still worked nicely with the design.
You don't know what the crochet pattern is going to look like. If you're very much into symmetry then this yarn is not for you. A large chunk of the crochet baby afghan that I'm working on is purple, blue and pink, but I was able to balance that out once I started a new skein of yarn that then had chunks of the other color combo.

Lion Brand's Ice Cream yarn is definitely one to try at some point in your life. If you're expecting a little one yourself or know someone who is, this yarn and any crochet pattern you might work up will easily make anyone smile from ear to ear. The bright pastel colors add just the right amount of color, and the yarn is soft enough that baby will feel cozy and comfortable.
Your Recently Viewed Projects