"How Do I Crochet?" 22 Free Beginner Crochet Afghan Patterns to Get You Started
This is where you'll find some of the best crochet afghan patterns for beginners!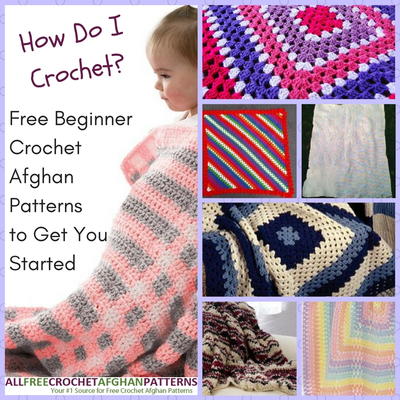 If you've been asking yourself, "how do I crochet?", then you've come to the right place! There are plenty of beginner crochet afghan patterns available that are perfect for newcomers.

"How Do I Crochet?" 22 Free Beginner Crochet Afghan Patterns to Get You Started is a great guide to easy crochet patterns for beginners. Finding the right crochet afghan pattern can be overwhelming.

Lucky for you, we've rounded up some of our favorite beginner crochet afghan patterns and easy crochet patterns below; we've got a great variety of designs to choose from!

If you've asked yourself "how do I crochet an afghan?" lately, then grab your yarn and hook and get started today!

PLUS! Check out the video tutorial right below to learn how to make a beautiful corner to corner crochet blanket.
Table of Contents
Beginner Afghan Patterns
Beginners are sure to love these simple crochet patterns. Whether you want to keep your first crocheted afghan for yourself or give it as a gift, there is an easy crochet pattern for every occasion.

You'll even find easy baby crochet patterns that are simple and cute. Stop asking yourself "how do I crochet?" Grab your hook and get started today!
Beginner's Round RippleJust because you're learning to make crocheted afghans doesn't mean you can't experiment with funky shapes!
Rainbow Stripes Beginner Crochet BlanketThis beginner crochet pattern is so easy and only uses the most basic stitches, so it's the perfect blanket to start out with as a newbie!
Beginner Daydream Baby BlanketCrochet a pastel rainbow for your baby's nursery with this fun beginner's pattern!
Sweet Easy Peasy SquareTry your hand at a granny square afghan pattern with this beginner-friendly one.
Quick As a Wink Baby BlanketYou can't go wrong with a classic baby blanket like this one. It's one of the best easy baby crochet patterns out there.
Salt Water Taffy Baby BlanketWith just one stitch to work, you'll be breezing this blanket in a hurry. Perfect for beginners, this sweet baby blanket uses 7 skeins of worsted weight yarn for a soft and cozy feel.
Super bulky yarn is a beginner's best friend. This crochet pattern works up quickly and is great to snuggle with when you're done.
Crocheted Granny LapghanLearning to crochet doesn't have to be stressful. This easy crochet afghan is a breeze to complete.
Rainbow Days AfghanThis is one of the most classic beginner crochet afghan patterns you'll find. This colorful crocheted afghan will look great in any home.
Celebrate summer and your new skill with this easy crochet pattern.
This Super Soft Layla Blanket is made with bulky yarn and a 9.0mm hook and works up in one night!
Easy Afghan Patterns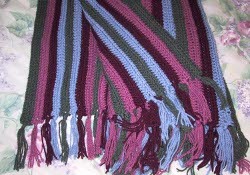 Once you've mastered the basic question of "how do I crochet?" and you have already completed your very first crocheted afghan, you may not be in the market for beginner afghan patterns anymore.

However, it takes a bit of experience to advance to intermediate patterns, so it's not a bad idea to stick to simple crochet patterns before trying your hand at more advanced techniques. If you're still new to the world of crocheted afghans, then this collection of easy crochet afghan patterns below is for you!
World's Easiest Crocheted AfghanPretty and easy afghan patterns are great finds. This one is both!
Giant Granny Square AfghanOne of the most vibrant beginner crochet afghan patterns! This huge afghan will keep you warm and cozy all through the night.
Foolproof AfghanThis easy crochet pattern is made using front and back post stitches to give it texture. Get started on this simple, but beautiful project today.
Made using three colors and holding two stands of yarn together, this plush baby blanket is perfect for a crib.
Stellar Patchwork Crochet BlanketTry your hand at color blocking with this easy crochet baby blanket.
Progressive Pattern Stitch AfghanA very versatile free crochet pattern. You will love this stitching on this gorgeous and easy blanket.
Quick and Simple AfghanFree, easy crochet patterns are even better when they're quick to complete.
Fast, Easy and Pretty AfghanThis crocheted afghan, perfect for girls, will answer "how do I crochet?" for good.
Berry Shortcake AfghanWith mouth-watering bursts of juicy raspberry, strawberry, and blueberry colors, this crochet afghan the ultimate summer blanket.
Over the Rainbow Crochet AfghanThis simple design will never go out of style! If you're looking to add a pop of color to your home, then check out this one.
You Plus Me Crochet AfghanThese joining squares give a modern chic feel to a classic afghan. Even better, this is a great beginner technique for those who have just learned how to crochet.
Your Recently Viewed Projects