How to Roll a Center Pull Yarn Ball
Learn the secrets of making your own pull ball with a center pull.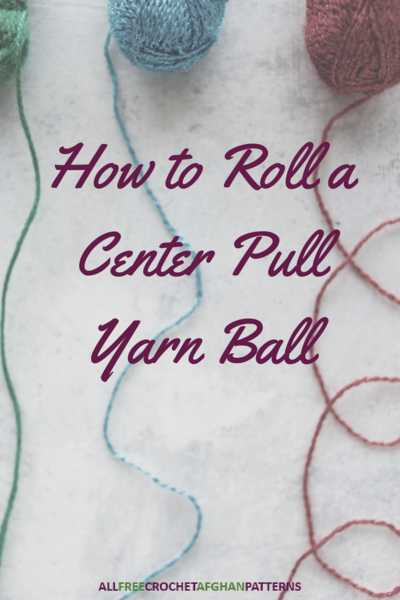 In How to Roll a Center Pull Yarn Ball, you will find great ideas to help you avoid buying a yarn winding product at the store. These tips replace those products with simple household items like toilet paper rolls or crochet hooks--or even with yourself!

As a crafter, you know the importance of trustworthy yarn organization. A pull center yarn ball will streamline the crocheting process and keep all those strings from ending up in a pile at your feet while you work on your project.

Being able to pull yarn from a sturdy center lets you crochet without fearing the dreadful unraveling of an entire hank of yarn that you won't look forward to gathering back up again, so learning how to make a yarn ball on your own will ensure that you only have to do it once.

Useful tips for crochet like these can make your life so much easier by letting you focus on the important thing: that amazing crochet afghan pattern.

 
Crochet Tips for Making a Center Pull Ball
There are many different techniques for achieving a center pull ball on your own. The key is to find something cylindrical as a base to start wrapping around.

Below, we have two different suggestions for what that should be, and then, for you brave crocheters, a way to do it without anything but your bare hands.
How to Wind a Ball of Yarn with a Cardboard Tube
A paper towel tube is a pretty common item, and it often goes directly into the trash without a second thought. Now, it can become your tool for your pull ball.

If you are a visual learner, watch this video from our in-house crochet expert Chris, to learn this technique:


​​
If you'd rather follow written instructions, take a look below.  
Hang several inches of your yarn into the center of the tube. When you're done, this will be the strand you pull from when crocheting, so be sure to leave enough (probably about six inches).

Leaving your tail in the center, stretch a few inches of yarn down the outside of the tube and pin it with your finger.

Wrap your yarn around the tube, securing the part that you were pinning with your finger.

After about (10) wraps, you can let go with your finger. 

Yarn needs to stay secure so it doesn't unravel when you start putting pressure on the center pull, so it is important to wrap your yarn at an angle after you have the center established. Alternate between directions (wrap for a while one way and then turn it about 25 degrees and do the same). Do this twice.

Now you can wrap straight again, making sure that you keep your ball closer to the shape of the tube than a sphere. 

When finished, tuck the end under a few strands.

Take the end that you started with and let it hang on the outside of your pull ball.

Carefully slide the ball off the tube.
How to Wind a Yarn Ball with a Crochet Hook or Rod
With this technique, the possibilities are endless. Just find something skinny and straight: your crochet hook, a drum stick, the handle of a long wooden spoon, etc. This will form your base around which your pull ball will form.
Use a slip knot to attach the yarn to your hook or rod. You need to position the knot above where you will be wrapping the yarn so that you can slide the finished ball off without having to drag it over your knot.

Hold the knot against the hook with your finger. This will help you keep this end separate from the ball you will be creating. Don't cover this part with your yarn, or you won't have a tail to pull from.

Begin wrapping yarn in a bunch around this point, right above where you secured it with your finger. 

Like with the tube, be sure to wrap at angles (criss-cross) as you go. 

When finished, tuck the end under a few strands.

Holding the slip knot with one hand and the ball with the other, carefully slide the pull ball off your hook.
Wind a Center Pull Ball With Your Hands
If you don't have any of these items handy, or you just want to be brave and show off your advanced skills, you can try this technique.

Your fingers will replace the paper towel roll or the hook until you have formed a sphere, which you can then continue wrapping around.
Leave several inches free to form the string you will pull from. Don't wind over this or get it mixed in with your ball.

Wrap your yarn in a figure eight around your fingers, with your index and middle fingers forming the top part of the 8 and the ring and pinkie fingers forming the bottom. Do this several times (about 6).

Hold the middle of the figure 8 and remove it from your fingers.

Continue holding the center. With your free hand, make three fingers into a platform (palm up) and then lay the figure 8 on them so that the 8 is parallel with your fingers.

Wrap the yarn around both your fingers and the center of your 8. Do this about ten times.

Remove, turn about 25 degrees, and repeat.

Keep repeating, turning as you go. This will give the ball its spherical shape. After a few repeats when it starts to become a ball, you won't have to wind it around your fingers also.
What are some other crochet tricks you have up your sleeve?
Your Recently Viewed Projects