How To Keep Yarn From Splitting
Follow these tips to avoid splitting a stitch!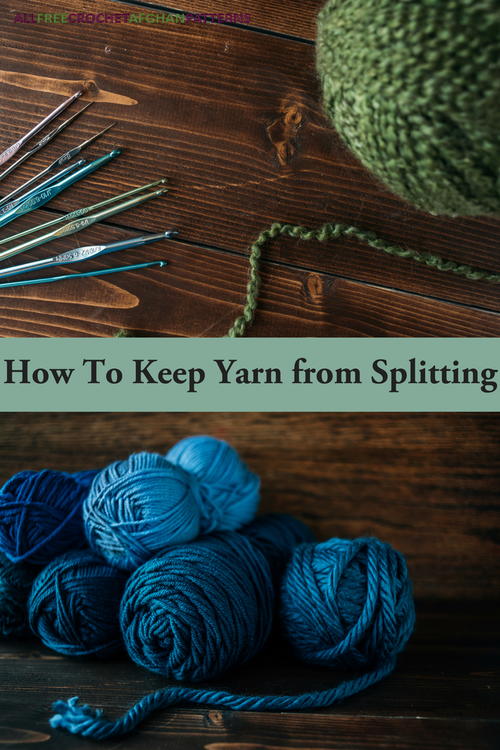 Have you been frustrated by splitting yarn? Most crocheters and knitters alike have faced this issue during one project or another. But what to do about it? There are many different opinions about how to fix splitting yarn, but this article will teach you how to avoid the problem before it starts. Continue reading to learn how to keep your yarn from splitting.

The Dangle

In order to avoid splitting yarn, practice "The Dangle" every so often while hooking a project. Simply hold your project in your hand and let the skein of yarn dangle down. Then spin the skein in the direction of the yarn's twist to tighten up the connection between individual threads. You can always wrap an elastic band around the skein to prevent unraveling while dangling, especially if your skein is more loosely compiled or if you're nearing its end.

NOTE: All yarn is twisted. But not all yarn is twisted equally! Some yarn winds clockwise, the S twist, while other yarn winds counterclockwise, the Z twist. Most yarn is S twist, but not all, so when you attempt "The Dangle" make sure you're twisting according to the natural turn of the yarn.

Wrong Way Crochet

NOTE: This trick only works for S twist yarns.

Your next option for avoiding the dastardly splitting yarn dilemma is to crochet in the "wrong" direction. You simply wrap your yarn the other way around the needle: clockwise rather than counterclockwise. As S twist yarns wind clockwise, your hook works to reinforce the twist when you also wind the yarn clockwise around it. Of course, your hands will have to learn a new rhythm, but you may well find it worthwhile if wrapping your yarn the "wrong" way helps you avoid splitting yarn altogether. Just make sure to hook in the wrong direction for the entire project if you choose to abide by this technique because often your gauge will differ between the "right" and "wrong" stitches and you want to ensure a cohesive look to your piece. This trick works especially well with more loosely-plied yarns, and also works just as well for knitters!

Other Tips
Try a different brand of yarn: Remember, not all yarn is created equally! And you'd be surprised how infrequently it has to do with the price. So if you find a brand of yarn regularly splits on you, switch to another brand.
Try a larger hook: Smaller hooks are pointier and therefore tend to poke between the threads of yarn more easily. Sometimes just upping your hook size can make the difference (as long as it doesn't fuss with the gauge too much, of course).
Try a different brand of hook: Not all hooks are created equally either! Some are more rounded or blunted at the top, a design element that might help prevent slipping your hook between strands of yarn.
Try working a little slower: When you hook too quickly, you're more likely to stick your hook where it doesn't belong. Slow down your movements just a little to improve precision of hook placement.
Try loosening up a bit: Some crocheters claim that splitting yarn can be avoided by maintaining a looser gauge. So try relieving some tension in your stitches. When you don't have to worry about splitting yarn, you'll be less tense overall!
Try a yarn bowl: These convenient creations will certainly help keep your yarn from rolling off the couch, and any time a ball unravels and you have to wind it back up again, the twist in the yarn loosens. So, it stands to reason that if you have to re-wind your yarn less, the yarn will also split less. CLICK HERE for an example of a beautiful yarn bowl to try.
How do YOU keep your yarn from splitting?


Your Recently Viewed Projects