Best Yarn for Crochet: Different Types of Yarn
Learn about the different types of yarn for crocheting!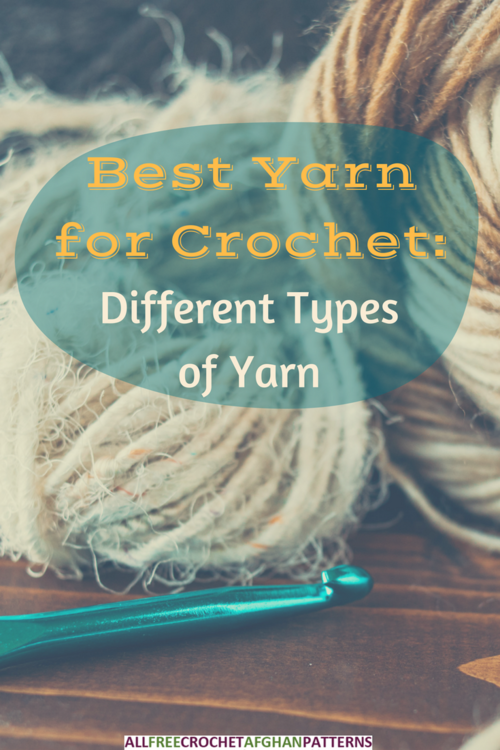 There are many different types of yarn for crocheting. If you are an experienced crocheter, then perhaps you have experimented with numerous types of yarn for your projects, but some crocheters may stick to the most common yarn types for a variety of reasons.

Many times, when you're looking at a pattern, it will tell you the type of yarn to choose, but not always. That's when having yarn smarts will come in handy. There are two main categories of yarn, natural and synthetic. Find the best yarn for crochet by looking at the properties of the most popular yarn types listed below.

Within the two categories, you will find more specific types of yarn from animals, plants, and man-made materials. Each yarn type has its own pros and cons for any sort of use. For crochet, some are better or worse for different reasons than they may be when used in other craft or textile projects.

When it comes to crochet, the right yarn is incredibly important. You're spending a lot of time and money on something that you want to be the best it can be. That's why it's vital to know the best yarns to use for your crochet projects. This information and crochet tips for these yarn types can help you choose.

Below, you will find some of the most common yarn types in both the natural and synthetic category. This should help you get to know yarns and how they work up before choosing the wrong one for your next project.


 
Yarn Types Chart
Before we get into the depths of yarn types, here's a handy guide. We have created an infographic with the most common types of yarn, both natural and synthetic, for you to pin, bookmark, save, or print out. Simply click the image below or click here to get the PDF.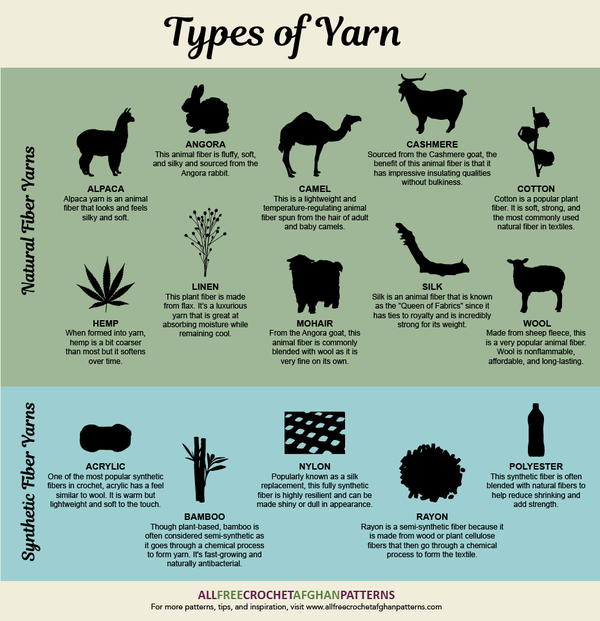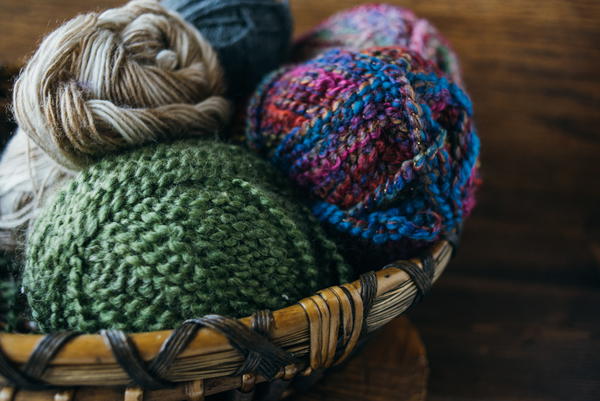 Natural Fiber Yarns
Natural fibers come from animals, minerals, and plants.


Alpaca

Alpaca yarn is an animal fiber that looks and feels silky and soft. Because it is even softer and it is less common than wool, it is considered more of a luxurious fiber.

Alpaca yarn is strong but isn't very elastic, unlike its wool counterpart. This means that it can expand with time, which isn't ideal. When using alpaca yarn, it's essential to block or take great care both while crocheting and after the project is complete.

One of the most important differences between alpaca and wool is that alpaca fibers are hypoallergenic. We probably all know at least one person with a sensitivity to wool, so this is a great alternative for those who are allergic to wool.

Alpaca yarn is available in wide range of colors as alpacas can be white, beige, brown, black, and gray with varying shades and combinations of each. This allows you to make beautiful, neutral-shaded crochet projects.

When it comes to benefits of this yarn type, alpaca fiber is desirable because it is warmer than wool yet remains lightweight. On the other side, it remains cooler than wool when exposed to higher temperatures. It also has strong resistance to water.


Angora

This animal fiber is fluffy, soft, and silky and sourced from the Angora rabbit. When formed into yarn, it is often blended with other fibers as it felts easily when used alone.

"Angora is said to be seven times warmer than sheep's wool and considered too warm for a garment. Blending angora fiber with others will add softness, warmth, and a 'halo' effect to a yarn and the resulting garment." – Chris McLaughlin, The Spruce

Angora fiber is from the undercoat of the rabbit, which means that it's super soft and fine by nature. There are five breeds of Angora rabbit, English, French, German, Giant, and Satin, all of which have fur that is used in yarn production.


Camel

An animal fiber spun from the hair of adult and baby camels, most commonly from the Himalayan or Mongolia regions. This fiber is lightweight with temperature-regulating properties.


Cashmere

Sourced from the Cashmere goat, the benefit of this animal fiber is that it has impressive insulating qualities without bulkiness. This luxurious yarn type is soft with less of a sheen than alpaca yarn.

Cashmere is naturally fire-resistant, absorbs moisture well, and doesn't produce static. However, because it is so fine, it requires a lot of delicate care.


Cotton

Cotton is a popular plant fiber. It is the most commonly used natural fiber in textiles. Cotton's yarn qualities include strength, color retention, and the ability to be easily machine-washed or dry-cleaned.

Cotton is incredibly soft, which makes it great for crocheting baby blankets or making other crochet baby items. It's also often budget-friendly.


Hemp

Hemp is an incredibly useful plant fiber that has been used for thousands of years. When formed into yarn, hemp is a bit coarser than most but it softens over time.


Linen

This plant fiber is sourced from the flax plant. This luxurious yarn type is fantastic at absorbing moisture while remaining cool.

Often compared to cotton, this fiber has similar characteristics but linen is not as soft as cotton. Linen does wrinkle as much as cotton.

Linen is the strongest fiber found in nature. It is also long-lasting. Because linen has hollow fibers, it retains heat but also allows air and moisture to move through. 


Mohair

From the Angora goat, this animal fiber is commonly blended with wool as it is very fine on its own. Mohair yarn is soft and highly receptive to rich dyes.


Silk

Silk is an animal fiber that is known as the "Queen of Fabrics" since it has ties to royalty and is incredibly strong for its weight. This fiber is obtained from the mulberry silkworm. Silk strands are long, very soft to the touch, and shimmery.


Wool

This is a very popular animal fiber made from sheep fleece. Variations of wool yarn include Icelandic, lamb, merino, Shetland, tweed, virgin, and washable.

Wool is not flammable, affordable, and long-lasting. It also has a natural elasticity which means that your work won't stretch out as much as with some other less elastic yarns.

It's also breathable but does hold heat which is great in the cold but not so great in warm weather. When wool is wet, it remains warm.

Wool felts, which can be a pro or con depending on the type of crochet you are planning. Wool can be itchy and some people are allergic to it, so always consider your recipients' sensitivities and allergies when making crochet for gifts. Certain wool yarns may need to be hand washed and dried but washable options are available.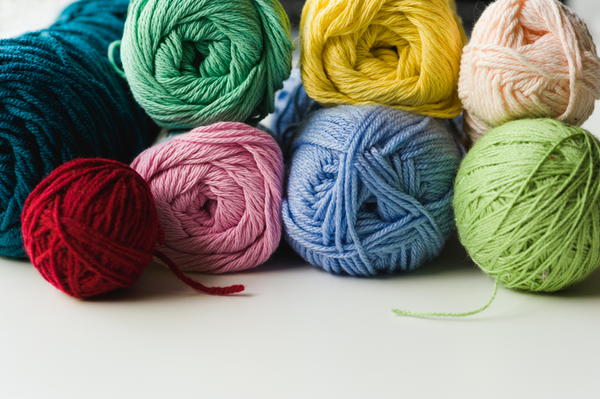 Synthetic Fiber Yarns
Synthetic fibers are partially or completely man-made, using chemical sources or processes.


Acrylic

One of the most commonly used synthetic fiber in crochet, this synthetic yarn has a feel similar to wool and is warm but lightweight and is soft to the touch.

Acrylic yarn comes in a variety of colors and styles and is one of the most affordable types of fiber available. Because this is a manmade fiber, there are a lot of built-in benefits. It's a durable yarn, it is washable, as well as safe for people with allergies.

It depends on the process and brand, but acrylic is known to be a scratchy yarn, which can be a problem if you're making homemade crochet afghans or throws that you want to use on chilly nights. Another con of acrylic yarn is that it is flammable.


Bamboo

This plant fiber is produced from the cellulose from the grass or stalk of bamboo, this yarn is not only soft but it is more sustainable than most other fibers. Though it is plant-based, it is considered a semi-synthetic fiber because of the chemical process it endures while turning it into a usable fiber.

Bamboo is considered highly eco-friendly because it grows quickly, does not need any pesticides or fertilizer when growing. If that weren't enough, it also does not require as much water as other plants and it biodegrades.

As a crochet yarn type, bamboo is naturally antibacterial, strong, flexible, and soft. However, it can swell in water and expand. That is why anything made with bamboo yarn should always be hand washed.


Nylon

Popularly known as a silk replacement, this fully synthetic fiber is highly resilient and can be made shiny or dull in appearance.


Polyester

This synthetic fiber is often blended with natural fibers to help reduce shrinking and add strength. This yarn type is also wrinkle-resistant and quick-drying.

There are two types of polyester yarn, spun and filament. Spun yarns have a similar production process to other yarns such as cotton. This yarn is comprised of thousands of short pieces. Filament uses single strands to form the yarn.


Rayon

Rayon is a semi-synthetic fiber because it is made from wood or plant cellulose fibers that then go through a chemical process to form the textile. Also known as viscose, the final product is lightweight and soft, like silk.
Do you have any yarn tips or preferences?
Share with us in the comments section below, and we'll add it to the article!
Your Recently Viewed Projects