15 Ravishing Ripple Afghan Patterns
Looking to make waves? These stunning ripple patterns are just what you need for an unbeatable splash!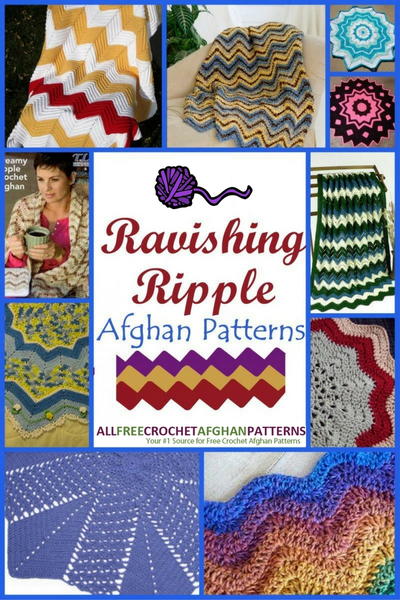 Old-fashioned but never out of style, these 15 Ravishing Ripple Afghan Patterns are all great choices for your next crochet project. Learn how to crochet a ripple crochet afghan with these free crochet patterns and you'll have an absolutely gorgeous afghan when you're finished.

Afghans make great gifts for housewarmings and birthdays because they are heartfelt and meaningful. Handmade treasures are a loving way to show someone that you care. Be warned though--you may be so pleased with your handiwork that you won't be able to give it away!

Ripple crochet afghans are some of the most popular patterns in the crochet world. There is something so soothing about a ripple pattern with its wavy rows and multiple colors.

With the ripple crochet afghan patterns you find below, you'll see that there is more than one way to create the favorite ripple. Some crochet ripple patterns are zig-zag like and others are more wavy. Whichever you prefer, there is a ripple pattern for everyone.

Whether you make ripple crochet afghans for yourself or as gifts, this list of free ripple afghan patterns is a great place to look for your next project. Find your new favorite ripple pattern in the list below.

Start practicing your skills as a beginner, advance to intermediate, and then try something new with a round crochet ripple afghan pattern. What are you waiting for? Grab your hooks and some skeins of yarn and get going!

PLUS! Get some tips for picking yarn colors for your crochet projects by watching the video right below!
Table of Contents
Ripple Afghan Patterns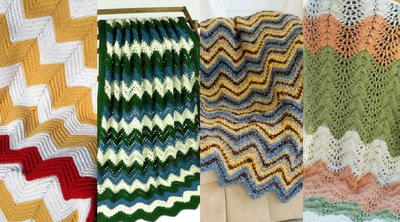 Chevron BlanketThe chevron ripples in this cozy blanket are bold.
Dreamy Ripples Crochet AfghanThis blanket is dreamy and creamy, which makes it just right for dreaming or hot chocolate with whipped cream!
Land & Sea ThrowJust big enough and heavy enough to be snuggly and warm!
Blue and Yellow Ripple AfghanRed Heart has hit perfection with this pretty throw.
With rainbow colors, this ripple crochet afghan will help you welcome spring.
Color Basics Ripple Crochet PatternThis ripple crochet afghan is great for the house, a dorm room, or even a crib.
Touch of Honey Ripple Crochet PatternThis warm ripple will satisfy your sweet tooth.
Cabin in the Woods Crochet AfghanFull of warm tones, this afghan will make you feel like you are away at your dream cabin.
Neutral Melon Crochet Ripple AfghanThis ripple crochet afghan is perfect for the transition between summer and fall.
Lazy Day Ripple PatternThere's a whopping number of 8 shades in this ripple crochet pattern!
The rich warmth of this ripple pattern will make you feel as though you are walking in a garden every time you see it.
Bubble Gum Pink Double Crochet Ripple BlanketVibrant and fun, this beaut will leave you wanting more. Perfect for a girly girl.
Fans and Pansies Ripple BlanketIf you're looking for a stunning vintage pattern to crochet, then look no further than this amazing design.
Chestnut Ripples AfghanThis neutral pattern can easily be made more vibrant with a couple of color swaps. No matter your style, this ripple will please.
Two-Color Ripple Waves Baby BlanketWhether you choose to make it in blue and white, pink and white, yellow and green, or a brighter color combination, you'll love working this pattern.
What are your favorite colors to use in ripple patterns?
Your Recently Viewed Projects