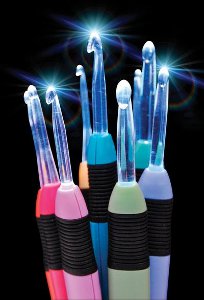 Crochet Lite Hooks
Gifted by: Cut Rate Crafts
www.cutratecrafts.com
Reviewed by the editors of AllFreeCrochetAfghanPatterns






It's pretty safe to say that Crochet Lite Hooks are a popular product within the crochet community. Crocheters have been absolutely raving about these hooks for a while now and for good reason, too. Why, you ask? They light up! If you've ever worked with dark yarn, you know firsthand how straining it can be on your eyes. The solution to this problem: the Crochet Lite Hook. This small and lightweight hook has a small light at the very tip of the clear plastic hook, allowing you to easily follow along your stitch work.
It's the perfect solution to working with darker fiber. Plus, the Crochet Lite Hook is great when you're looking to get in a few more stitches while watching a movie or a TV-show in the dark. It's bright enough to help you guide your hook through your yarn, but not enough to disturb your friends or family who might be sitting with you.
There are nine different sizes, each with a corresponding handle color, so you'll never be confused. The battery operated hooks (uses G3-A batteries, included in purchase) are each sold separately.
Buy your Crochet Lite Hook at CutRateCrafts.com! And also check out this video for more information on the Crochet Lite Hook!
Your Recently Viewed Projects