By Susan Kerin, Skerin Knitting and Crochet

Disclaimer, the BDYT is not affiliated with Darn Good Yarns, a registered trademark of Darn Good Yarns, Inc.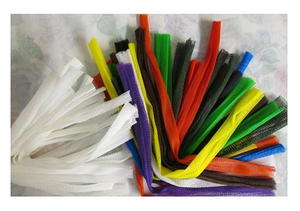 The "BDYT" – "Best Darn Yarn Tenders" are exactly what they say. These are my all-time list toppers of knitting helpers in my bag. There's nothing like starting a project with every yarn strand in place.
I use them on skeins, cones, and center-pull balls of yarn. I never worry about what is happening in my bag when the yarn tenders are doing their job as my project yarn decompresses and becomes loosey-goosey. We all know that can lead to tangle challenges, especially at inopportune times "in the middle of a row"! Here, supported yarn remains in the tenders and tangles are prevented. Most of the time I don't even realize when I am pulling the last length of a skein because the tender has done its job to keep the skein upright and tangles have been prevented.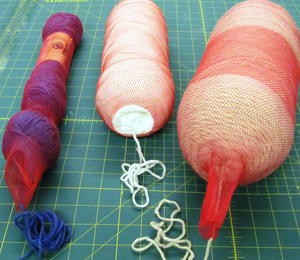 When I'm working a project of many yarn colors, the tenders become the automatic yarn organizers for the whole project when they are all nestled together, each holding a different color. They're particularly terrific when stash-busting, especially when making scrap afghans. They're perfect for single or multi-slotted yarn containers, since the tenders hold skeins, balls or cones in their original positions.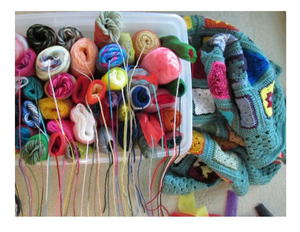 Sometimes new yarn has that nasty yarn vomit already in the skein when you bring it home. After this new yarn is in its tender and the first pull results in the big glob coming out, there is an easy fix. First, I pull the whole glob completely out from the center and then untangle the manufacturer-created knot. Without cutting the yarn, with the beginning end I next wrap a center-pull ball and wind until meeting the yarn coming from the tender center. Then I easily insert the ball into the top of the tender.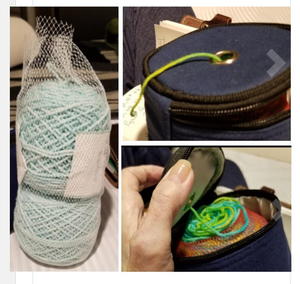 When I start a new project the first thing that gets done is to corral my yarn skeins, cones, or center-pull balls and insert each into its own tender. After project completion, I use them to keep my leftover yarn supply neat and tidy and in place when stashing. What a must-have at www.SkerinKnittingandCrochet.com!
Your Recently Viewed Projects