Which Crochet Stitch are You?
Take our simple quiz below and find out which crochet stitch best describes you!
All you have to do is pick your answer, tally up the points, and see the results at the bottom of the page.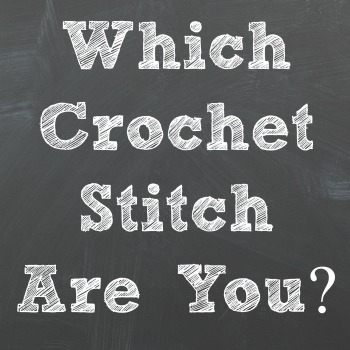 1. What's your type of vacation?
a. I'd rather have a "Stay-cation"
b. Anywhere where I can sit on the beach
c. Europe: museums, restaurants, and beautiful sites!
d. Anything that has an adventure: safari, white water rafting, hiking, etc.
2. Describe your perfect date
a. Dinner and movie at home
b. Dinner at a fancy restaurant
c. Going to a museum or some kind of cultural event
d. Anything out of the ordinary and over the top
3. What's your type of style?
a. Jeans and T-Shirt
b. Preppy (Ralph Lauren, Tommy Hilfiger)
c. Vintage (Moms/Grandma's closet is always a great place to shop!)
d. You mix and match and make up your own sense of style
4. Which leading man would you like to star in a movie with?
a. Tom Hanks
b. Clint Eastwood
c. Robert De Niro
d. George Clooney


You Got Granny Stitch! Just like this easy and simple stitch, you're someone who doesn't need to go over the top. You're down to eath and enjoy the simple things in life.

You got the Ripple Stitch! You're someone who enjoys a daily routine and organized life style.

You got the Wheel Stitch! A unique stitch just like you! Your someone who likes to spice things up, and isn't afraid to think outsidethe box.

You got the Tunisian Stitch! You're someone who appreciates the finer things in life, and knows that a lot of hardwork can pay off.
Share which stich describes you below!
Your Recently Viewed Projects