52 Clever Yarn Organization Solutions by Readers
By:
Nicola Trumbull, Editor for AllFreeCrochetAfghanPatterns
52 Clever Yarn Organization Solutions by Readers
Having a lot of yarn is a blessing and a curse. It's time to organize your overflowing stash by taking some tips from our readers. With 52 Clever Yarn Organization Solutions by Readers, you'll find great ways to organize your yarn and tips for making your yarn collection the best it can be. Take it from these yarn lovers and find some tips that will work for you. Each person organizes their yarn a little different from the next, but you may just find something you've never heard of in this selection of great organization tips.
Why hide away your beautiful yarn collection? These readers have found a way to use their skeins of yarn to create beauty in their home.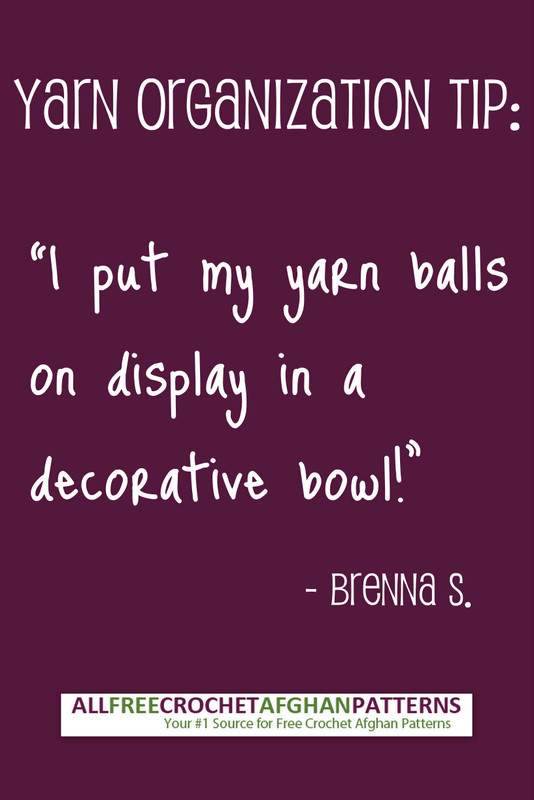 "I store my "inspiration yarn" on my studio wall. It is in 9 large square baskets attached to the wall in a diamond formation. It is not only decorative but it's hard to walk by and not grab some yarn and create!" - Toni Y.

"I put my balls of yarn on display in decorative bowl!" - Brenna S.

"I love not only using my yarn but also love how beautiful yarn is! I try to find ways to organize it in shelves so it is visible and adds rainbows of color in my craft room (and even in my living room!). My overflow (which seems to be a common problem among yarn addicts!) is neatly organized in bins until I need it. I always sort my yarn by weight then fiber and keep brands together." - Sarah M.

"Small amounts of leftover yarns just get rolled into a ball and put into a pretty basket. That is the only part of my stash that looks pretty." - Elaine S.
Got a tricky space to try and store your yarn? These readers have come up with some clever and inventive ways to store their yarn stash.
"I have it in a very large, very chic storage ottoman and neither my kitten nor my children know its there! Plus, because the ottoman goes with my decor, I can have my yarn always accessible right out in the open with out any one else seeing it! (I may have to dig a little though to find exactly what I'm looking for, but I don't mind)" - Caryn S.

"I have a storage bench that I open, add to the jumble, and pretend I know EXACTLY what & how much I have. The yarn my husband sees is stored neatly in a rolling storage case that holds my tools of the trade & 3-4 skeins of 'current' projects. It can be taken with me or stored as necessary." - Vicki B.

"I store my extra yarn in a large packing box in my closet. Then I also use recycled kitty litter clear plastic tubs to store project yarn together. I have a bunch of clear plastic ice cream containers I used to store small skeins and balls that I use in my plastic canvas projects. I also use plastic tote bags to hold yarn and projects. The last thing I have is 3 of the multi yarn holders for projects." - Cleary K.

"I have my yarn sorted by color, then by thickness. I have re-purposed a hutch to organize it all, as it has a couple of shelves, one big tabletop of just the right size to take photos of finished projects and display them and a drawer to hide all the hooks, needles, hoops, looms, scissors and small etc. that always seem to find a home in a crafter's stash." - Cariena B.

"My studio is also a display place for visitors, so I have a converted garage that has steel shelving on wheels… 10 steels uprights have 6 shelves per unit. There is fabric on 3 of them, but the rest have yarn. I keep the yarn in bags (with holes punched liberally for breathing) and stack by type. Sorting by color is less important than type by, for me. The yarn on cones just stand, like soldiers side by side on one of the narrow steel shelves. I use wicker baskets to hold yarn (again by type) that doesn't happen to come in wrappers. My fleece and spinning fibers are all there too! I like it and it works for me…I'm not patient when I want to find something fast for a project." Kathryn G.

"In a huge 31 bag at the moment – looking to reorganize my craft room and possibly do a peg board wall." - Dee Dee O.

"I bought one of those nice put-it-together-yourself white cupboards with doors for my yarn storage. When I finished sorting by fiber and sometimes by brand, and then color, about half my yarn fit in the cupboard. So I had to re-sort and put the sock yarn, baby yarn, special handspun yarns, and "boutique" yarns in the cupboard. The rest is mostly RHSS and similar worsted weight yarn which is sorted into several plastic tubs by color "families": lots of shades of blue, pink/yellow, red/white/navy blue, black/white, forest colors/brown/greens, and variegated worsted yarn. In any case, I need more uniform storage and a larger room!" - Elaine S.


"I attached hooks to the beams in my cellar's ceiling and hung shower curtain rods from them. I then got some trouser hangers, the ones with the built in clothes pin. I bought the large 2.5 gallon zip close storage bags andn put my yarn in them, sorted by color. I then clipped the hangers to the storage bags and hung the hangers on the shower curtain rod. Now I can see exactly what I have." - Lori

"I keep a Yarn Inventory spreadsheet so I know if I have enough yarn to finish a project." - Alison H.

"I crochet, weave, spin, knit, etc. So I have several different methods for storing my yarns. I have a wall of cabinets with yarns sorted by use- fiber-weight-andcolor. I also have various large plastic covered tubs for yarns not needed as often. I also have several woven baskets that I periodically fill with different yarns and spread around the house as inspiration and a reminder of what I have on-hand. By choosing yarn for the baskets, I am given an opportunity to go through my stash and weed out what I no longer need (which are given to various outreaches and charities). I often use these baskets of colorful yarns as centerpieces instead of a potted plant or vase of fresh flowers. They brighten the area, boost my creativity and give me an excuse to fondle fiber." - Lauren A.

"I have an old dresser that has baskets of the different types of yarn I use most. Sock, cotton, DK, wool for felting, and misc. The top drawer is for tools, and small bits of leftover yarn. I have my pattern books on top." - Margo L.

"The yarn and threads are basically organized in large, clear plastic containers and sorted by yarn weight and fiber, such as cotton or acrylic. The crochet threads are sorted by weight into 2 large apple boxes and then, scrap yarns are in another container, sport weight yarn has a box and also in a closet. There is also a set of baskets on a stair landing with more crochet thread…..Most of my yarn is for charity knitting, the crochet thread for gifts and personal projects." - Alice

"I have it stored in three tall shelving units, it is organized by colors." - Wendy H.

"An old dresser, under the bed bins, pretty hat boxes. I sort by type and weight. Such as all wool, sock, baby, holiday etc…." - Janet M.

"I have my yarn stored in round stack cubbies I made from sonotubes I bought at the home improvement center. Yarn is stored by size then type. The sonotubes come in different diameters, they are cut down to 8″ -12″ deep, spray painted white and stacked and tacked together, the deepest ones on the bottom and the smaller to the top. It takes up an 8×8 wall in my craft room. This is supplemented by a cubbie unit bought at IKEA that has a work desk attached to it. Overflow or partial items are stored in clear plastic bins" - Colleen

"I have yarn in an old dresser with one drawer for "fun yarn" one for leftovers, one for baby yarn, and the rest by weight. Yarn ear marked for a particular project is in project bags (reusable grocery bags) with the patterns, lined up on the top." - Lisa Y.

"I store my hooks in a stone ware vase and straight needles in another store ware vase and circulars in plastic bags." - Maura
You have the space, but you're not sure how to start organizing/categorizing your yarn? These readers have found great ways to organize their skeins of yarn.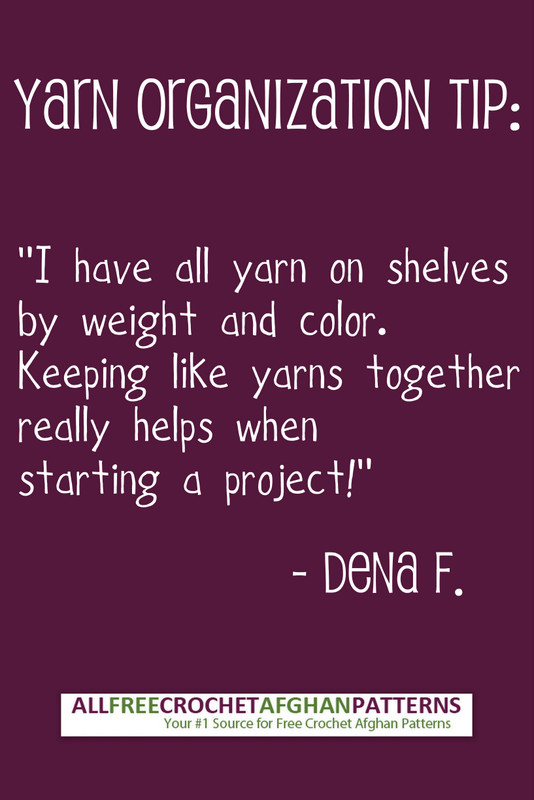 "I have a LOT of yarn. Chunk and super chunky are in 1 bin, baby yarns in another 2 (pomp versus regular). The rest is acrylic medium weight separated by color and labelled. In addition, warm colors are in pink bins, cool colors in blue bins, neutrals in gray bins. The variegateds are in clear bins — one for baby colors, one for boyish (or either one) colors, one for girl colors." - Katie

"I have mine stored in clear plastic storage bags sorted by fiber and weight. Then those are stored in plastic tubs. Works in progress are in tote bags." - Amy

"I store all my yarn in clear plastic bins. I sort by fiber type – all angora, mohair, wool, etc. All my scrap balls are stored together. And all of it is cataloged on my computer." - Tracy W.

"I sort it by how much I have and then by color.. all in clear plastic bins.. I do this so when I look at my project and pick my colors out I know if I need to buy more yarn" - Micheal D.

"I sort by weight and then by color. I use large clear plastic bags. Lately, when I finish a project I donate the left over yarn to my neighbor who makes preemie and chemo hats. This helps to keep my stash more manageable." - Judith T.

"I have all mine on shelves by weight and color. Keeping like yarns together really helps when starting a project!" - Dena F.

"My yarn is sorted by use: sock yarns, lace yarns, dishcloth cotton, novelty yarns, spinning fiber, and then I've got a couple buckets of the heavier yarns all mashed together. I keep my stash updated on Ravelry as much as possible, so I can "browse" my stash from my computer. Then, when I find what I want to use, it's just a matter of locating which bucket it's stored in." - Anne K.

"I organize by projects. Current projects are kept in individual containers in overhead storage in the living room of our motorhome." - Debbie M.

"I have a lot of vintage thread and yarn. I keep the thread in one clear tub and the yarn in another. I also have yarn on spools, and they are in their own tub. The feathers sorted out by type, ie baby, fingering, four ply etc. Scraps are all kept together as well. Everything gets used. I also have a tub for holiday yarns/threads." - Harriette W.

"I have painstakingly sorted yarn by color and placed like skeins in plastic covered tubs in one of my attic spaces. I have at least 12 maybe more of the largest tubs full. Each tub is labeled with the color and number inside. As I remove skeins I change the number on the outside." - Gail H.

"I store my yarn in clear plastic bins or bags. My yarn stash is organized to which projects I want to work on next." - Nicole B.

"I store my yarn in tubs by color." - Mary W.

"I sort by 1.fiber 2.color 3.length all in stack clear plastic bins." - LaShon M.

"I store my yarn by project. I have all my yarn in plastic bags, and then they are in plastic tubs. Many plastic tubs!" - Patricia C.

"I organize mine mainly by color. Then if I need a certain color for a project, I can find it more quickly. Within the colors, I try to keep similar weights together. These are all in clear plastic bins so I can see what's what." - Ann L.
"I store mine according to fiber, weight and color." - Nancy T.

"Sorted first according to weight, then by fiber (natural or man-made), then by color." - April R.

"I keep my yarn organized by type (cotton, acrylic, bamboo,…) in clear drawers that are in "Plastic cabinets." - Anne Marie C.

"I try to keep my yarn sorted by color and type. Most of my worsted weight is stood up on ends in clear plastic tubs. My chunky yarn is in old wooden crates. my light weight yarn is in another plastic tote and my specialty yarns are all in a big round basket." - April C.
Perhaps you would like to hide away part of your stash - these readers store their yarn under the bed!
"I have 2 large under-the-bed storage bins that all of my leftover and unused yarn are stored in." - Christi

"Clear plastic tubs under the bed. Each bin is sorted by intended project and then weights for strays" - Jennifer W.

"I store my yarn in under-the-bed storage bins sorted by fiber content." - Kelly
Give your yarn some room to breathe and use some baskets like these readers.
"I crocheted bins high enough to stand the skeins on end. I used a large needle and three or four strands at a time.. I used all my small balls of yarn. I have many sizes and colors, as I use the yarn." - Debi

"Currently, my yarn is in 3 different containers, one being a small, round, green laundry basket that sits on the table next to my couch." - Davina

"My yarn is stored in clear plastic containers by color. If I'm using it, it's in a basket right next to the couch." - Karen H.
Don't have a huge yarn collection yet? Don't worry, it's never too early to start organizing and preparing for more yarn.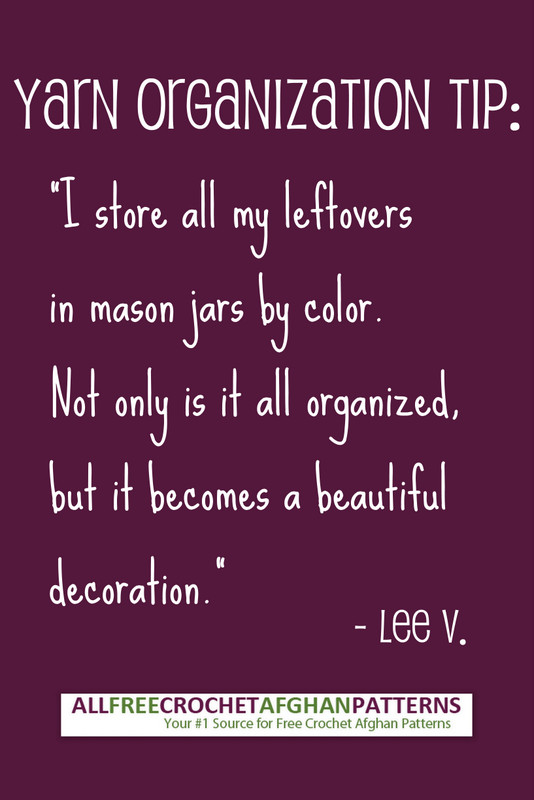 "I store all my left overs in mason jars by color. Not only is it all organized, but it becomes a beautiful decoration." - Lee V.

"I have my yarn just stashed in boxes due to moving. Nothing to inventive, but then again my stash isn't too big." - Stormyyskyy

"I have a lot of yarn and remnants of yarn leftovers. I generally put them in large plastic see-through bins so that I can easily grab what I need for a new project. I can always find a use for bits and pieces to make a great ecclectic afghan or the like!" - Pat A.

"Store my yarn, by weight/color, I have a small stash, so I rotated cardboard box, like a cubbie, and decorated cardboard box, with scrap wrapping paper.For my crochet hooks/knitting needles I have pencil cases, and misc stuff, like velcro, snaps, zippers, I have in giant ziplock bag. For big current projects like afghans, I keep in space saver bags." - Kim G.

"My husband made me a yarn bin that I store my yarn in. It is organized by project and I store all of my scrap yarn in a basket." - Ericca C.

"I store my yarn in three drawer plastic units on wheels so that i can move them where I need them. When I have a short amount of yarn, I wind it up on an empty toilet paper core. Depending on the amount left, I can get two colors on one roll." - Karen A.
Want more great tips? Check out Reader Submitted Yarn Oragnization Tips and Techniques from more readers just like you.
Free projects, giveaways, exclusive partner offers, and more straight to your inbox!
Tags / Related Topics
Your Recently Viewed Projects
Images from other crafters


Something worth saving?
SAVE all your favorite patterns
ADD personal notes
QUICKLY reference your patterns