Marvelous Mile a Minute Afghan Pattern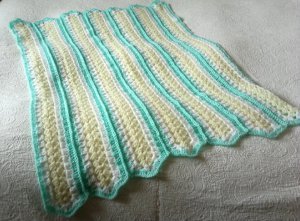 Marvelous Mile a Minute Afghan Pattern
Need an afghan and quick? Check out the Marvelous Mile a Minute Afghan Pattern! It'll take you next to no time to crochet and will look fabulous when you're finished.

Not only is this an easy crochet blanket pattern when you're in a time crunch, but it's extremely versatile, too. Quick crochet projects very rarely are so neat.

Pick bright colors to make it pop in the room, or keep it neutral if you want to add a subtle and elegant touch. You can't go wrong with this beautiful crochet afghan.

 


DID YOU KNOW?
Crochet afghans like this one get their name from the location where they originated: in Afghanistan. The word "afghan" came into the English language in the 1700s as the Persians used to call the Pashtuns by this name, who lived in what is now eastern and southern Afghanistan. 

Afghanistan is well known for its textiles today like carpets and karakul wool, which can be used for crochet afghans. This crochet afghan, which is a mile-a-minute afghan, is just one of the many variations that you can find. Other styles include join-as-you-go afghans and motif afghans. 

If you need to make a crochet afghan fast, you'll want to choose a mile a minute pattern like this one. Motif afghans can be fun because you can choose a single motif in different colors or multiple motifs that fit together to form one wonderful crochet afghan. Similar to motif afghans, the join-as-you-go crochet afghan is about joining squares together as you make them. 

You might also like these other mile-a-minute crochet blankets:
Your Recently Viewed Projects