18 Free Crochet Afghan Patterns for Halloween
Don't go batty trying to find the best Halloween crochet patterns because they are all right here.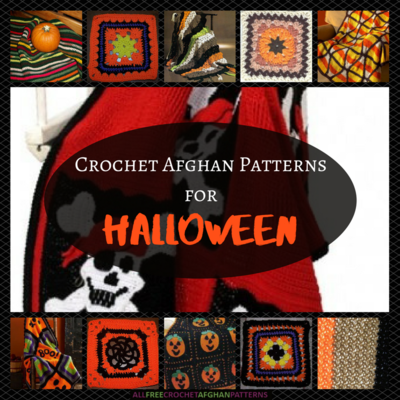 No tricks here, these free patterns are a treat! 18 Free Crochet Afghan Patterns for Halloween are spooky and fun afghan patterns to try. Or create your own afghan by using some of these Halloween crochet granny square patterns.

These crochet afghan patterns vary in degree of difficulty, from easy patterns to advanced, so there is something for everyone. Now is the time to try something new and these Halloween crochet afghan patterns will help you get motivated. 

From pumpkins to witches, this list has everything you need to get into the spirit of the season. You can even have a Halloween crochet party and crochet these free patterns with friends. 

Halloween is the perfect excuse to crochet something festive. Put one of these afghans on a chair in your front hall so when trick-or-treaters come to your door, your afghan will catch their eye. Get ready for Halloween and make one of these crochet afghan patterns to have in your home throughout the month of October.
Table of Contents
Halloween Crochet Afghan Patterns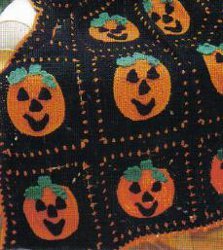 Fall can be a chilly time, with temperatures beginning the plunge towards winter. Try your hand at crocheting some very festive crochet afghan patterns. All of these afghans will keep you cozy warm, no matter what the weather outside.

Kids will love the Spiderman afghan and the Cat and Mouse Throw and Pillow. Don't be scared of the Halloween Afghan! Plus, the crocheted pumpkins are both cute and spooky. Using all of the wonderful colors of autumn, these afghans will scream fall and Halloween.
Halloween Crochet Granny Squares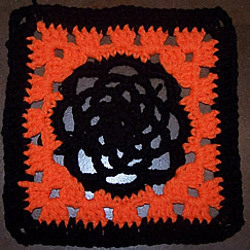 Orange, purple, and black are the perfect colors for squares that will reflect the spooky holiday. The Spider Web Square is especially creative and goes well with the Witching Hour Square. Make an afghan from these crochet squares and spook your friends and family. These colorful squares will make for bright, exciting afghans!

The best thing about granny square patterns is that you get to create the afghan you want! Do you want an afghan of only Nightmare Squares? Go ahead! Want to mix it up with many different patterns? You definitely can! 
How are you getting ready for Halloween?
Your Recently Viewed Projects