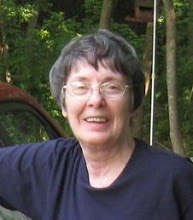 Over the years, I have tried many crafts. I taught myself to crochet using a Coats and Clark "how to" book and crochet has been my favorite method of expressing myself for over 55 years. In more recent years, I have concentrated my crafting time to the Art of Crochet.

I like bright colors, with shocking color combinations and functional items such as hats, scarves, shawls and especially afghans. I crochet rapidly, so large projects do not discourage me. Most of my patterns are adaptations of things I see and like and my patterns are free.

I love stash buster patterns because I have a huge stash. I gift 95% of the items I make and even keep my local animal hospital supplied with cage mats made from yarn scraps that are too small to use elsewhere. Any scrap 10 inches or longer gets tied together for "found yarn" rather than throw it out.

I always thought my patterns were functional and never did think they were exceptional, but they do seem to be well received and I love to share. I take a crochet project bag with me everywhere I go. I have been hauling my yarn stash, crochet books and hooks everywhere I've moved over the years from Pennsylvania to Texas and between. There are those who believe I am Certifiably Crochet Crazy hence the subtitle of my blog "researching insanity as an alternate lifestyle".

Links:
Doris' Patterns on AllFreeCrochetAfghan Patterns:
Your Recently Viewed Projects