Sportacular Afghans Book Review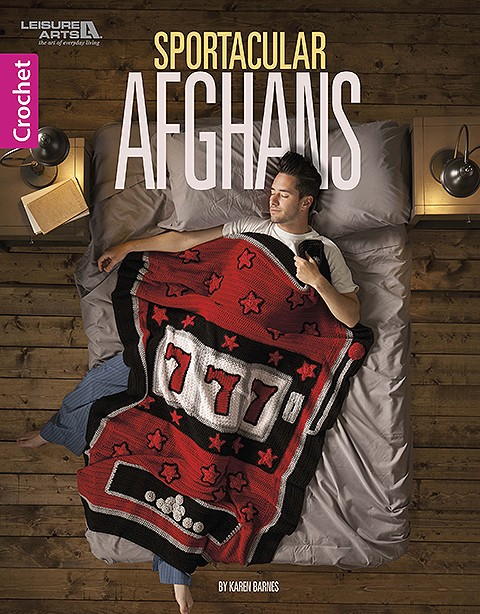 Sportacular Afghans Book Review
www.leisurearts.com
Reviewed by zzz Christine zzz Weiher, Editor, AllFreeCrochetAfghanPatterns.com

Crochet is often stereotyped as something to do for grandmas and older ladies, but what many people don't realize is that the younger generation can crochet, too, and so can men. Although it's not something you see every day, men can sport crochet items just as nicely as women. Unfortunately, it can sometimes be difficult to find just the right pattern for that special guy in your life, but with Sportacular Afghans from Leisure Arts, you can easily find something he'll fall in love with.


Geared towards the sports-lover in your life, this book is full of fabulous crochet afghan patterns that you won't believe are crocheted. You're sure to win big points with these blankets that are perfect for gamers, golfers and bowlers. The designer of Sportacular Afghans, Karen Barnes, isn't a fan of graphic patterns, so she came up with patterns that can be crocheted in an applique form. You might feel intimidated just by looking at the finished photos because there is so much detail in each design, but each pattern is listed as easy, so even the beginner can take a shot at it.


You will not believe all the fine detail in each of these afghans. The Poker Table Afghan displays cards that are face down and face up with a heart, diamond and spade, and even has four different colored chips for each player at the table. Who's going to have a full house? You'll also be amazed at the Pool Table Afghan that shows six pockets, two pool sticks, a rack and pool balls - both striped and solid. If you find that you're up for an even bigger challenge you can crochet a number on the 8 ball. In this book are also a slot machine, a bowling alley, and a golf green.


Get your game on with these beautiful afghans perfect for every man's dream man cave. If he wasn't impressed with the sweater you crocheted him then he'll certainly be stunned that you worked up a sporty afghan.

Your Recently Viewed Projects