11 Cute Crochet Baby Cocoon Patterns
Hook up a cute baby crochet cocoon for the newest sweetheart in your life!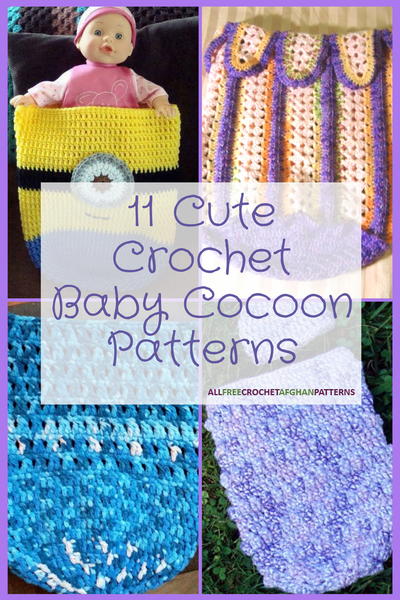 If you want the snuggly best for the new little bundle of joy in your life, follow these 11 Cute Crochet Baby Cocoon Patterns! Crochet baby cocoons are like mini sleeping bags so, unlike with a traditional blanket, you'll never have to worry about baby's feet poking out or her back half being cold. Swaddle her up and then tuck her inside this extra layer of warmth and coziness. Or, if it's not quite nap time, but there's a nip in the air, let a crochet cocoon keep her cushy and comfy. You'll have the peace of mind knowing she's nice and toasty no matter the occasion. Even if you have to strap her into her car seat or stroller, so her legs and arms need to be accessible to some degree, you can buckle her in, pull the cocoon up over her legs, and then off you go. 

Whether you're new to crochet or you've been hooking since you were practically in a crochet cocoon yourself, you'll find a crochet baby cocoon pattern that suits your skill level and design aesthetic. First time cocooning? Choose a simple, one-color cocoon pattern that will nonetheless be a beautiful addition to baby's basket of accessories. Or, if you're feeling ambitious or just enjoy some extra flair to your projects, you can add some embellishments with little crochet flowers or sea pennies that will give texture to even the simplest cocoon patterns. Whether you're working up a crochet baby cocoon as a gift for a loved one or for your own little love, these free crochet baby cocoon patterns give you plenty of options to create a special piece for that precious tiny person!
Table of Contents
11 Cute Crochet Baby Cocoon Patterns
Which crochet baby cocoon pattern is your favorite to hook?


Your Recently Viewed Projects