23 Angelic Crochet Blanket Patterns for Christenings
You will love the gorgeous baby afghans that will come from these patterns!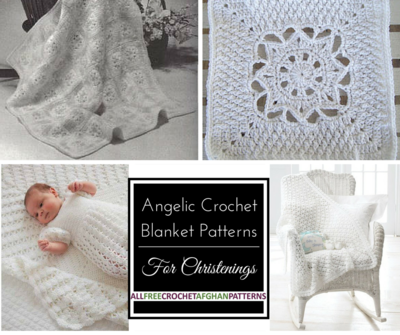 Christenings are one of the most special times for newborns and their parents. 23 Angelic Crochet Blanket Patterns for Christenings is a collection that will help you make that day even more touching. These free crochet patterns for baby blankets all create beautiful, angelic pieces that are perfect handmade gifts for the precious little ones.

Whether you like the delicate appeal of lace or want to dive into an afghan built from detailed granny squares, these twenty-three options will have something just right for you. 

The wonderful thing about using crochet for this type of project is that you can add amazing detail while still maintaining the traditional white element. These one-of-a-kind patterns will be able to stand up to the equally distinctive event of a christening. Some patterns find this exceptional look through unique stitches, like the shell stitch or crochet puff stitch. Others experiment with different yarns, from super bulky yarn for a plush, comfortable feel to DK weight for a lighter effect. You can even achieve a regal vintage look.

The collection of crochet granny squares offers everything from elegant flowers to three-dimensional hearts. With so many possibilities, you can tailor the piece to fit the specifics of your event and set the day apart with the personal touch of crochet.
Table of Contents
Simple Crochet Blanket Patterns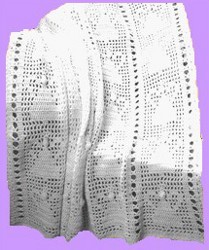 Simple does not equal boring. Instead, these free crochet patterns for babies are effortlessly wonderful. This christening blanket collection features easy baby blanket patterns with beautiful edging that stands out. You will love to create one of these beautiful blankets for baby.

The soft and cuddly textures make sure that even while looking good, your baby will also be feeling warm and secure. Standing up in front of everyone can be freaky for a little baby, so these blankets can bring them a bit of calm. 
Crochet Lace Patterns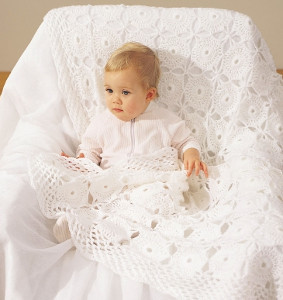 What better time to go all out than on a christening? These easy crochet blanket patterns will give your special baby a regal, lacy accessory for the big day. Plus, the intricacy of the patterns will look impressive.

Crochet lace patterns look amazing in the brilliant white used by these patterns, and this style also makes sure that the blanket stays lightweight and breathable. Without a doubt, these would be gorgeous for your baby's christening blanket.
Pure White Granny Square Patterns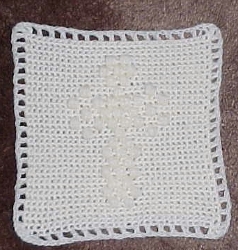 A simple granny square pattern can be used to make an entire crochet afghan. Starting with these basic squares, you can join them together to make the perfect sized blanket for your specific little one.

These crochet squares usually have amazing detail, such as bow ties or crosses, but are still easy to work up. The finished product will have a great, intricate theme, ideal for this special christening moment.
What's your favorite family tradition?
Your Recently Viewed Projects