What is Mile a Minute Crochet and How Do I Start?
One of those crochet techniques that you wish you'd known about sooner!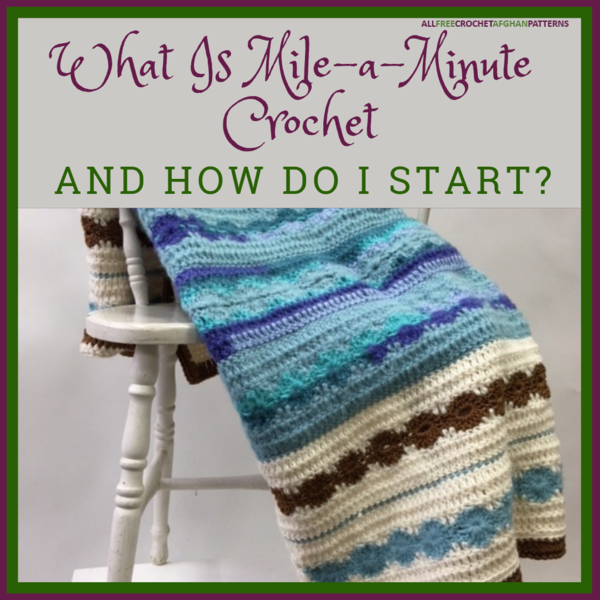 What Is Mile-a-Minute Crochet and How Do I Start
You may have heard the term Mile a Minute and wondered, "If it's just a fast crochet pattern, why don't they call it quick crochet or something like that? Why the special name?" Maybe you've been crocheting Mile a Minute patterns for years, but want to know more. Or maybe you didn't even know Mile a Minute was related to crocheting at all! Whatever your experience, you've come to the right place.

In What is Mile a Minute Crochet and How Do I Start? you will learn all about what Mile a Minute crochet is and tips for how to begin. We also include some great patterns to begin your Mile a Minute journey. No use staying in the dark any longer; it's time to get cracking!
What is Mile a Minute Crochet?
Mile a Minute crochet patterns are similar to granny square patterns in that they are made up of smaller, individual pieces. However, rather than squares, Mile a Minute patterns are made by first crocheting long strips of crochet fabric and then joining them together to create the full project.

Each of the long strips is made up of a center strip surrounded by a border. There are a lot of different Mile a Minute patterns. Some call for identical strips put together in a repeating pattern. Others have different designs in each strip, making a project with a lot of variety. Sometimes the strips have rounded edges, and other times, they are squared off.  However, all of the patterns use the basic crochet stitches to make beautiful designs in each strip so that, when put together, any project is a gorgeous one.

While it's not entirely clear where and when Mile a Minute crochet began, we do know from the history of crochet that the art has been continually evolving since its beginnings. According to the Crochet Guild of America, if we "compare crochet methods of the past with those we use today," we find a very different craft, both in how and what was created. Even the 20th century saw a shift in crochet methods and purpose.

Mile a Minute crochet, then, seems to be yet another form of crocheting that was created to make the art more varied and versatile. Granny square patterns became very popular in the second half of the 20th century, and due to their pieced-together similarities, it is possible that Mile a Minute crochet patterns had a similar history.

Whatever its roots, this wonderful form of crochet will give you yet another unique way to pursue your love of yarn!
Why should I Mile a Minute Crochet?
The projects are fast! Like the name suggests, Mile a Minute crochet patterns are patterns that work up quickly, or at least have the illusion of going fast.  Creating the pattern in strips breaks up the work, allowing you to have small victories along the way. Like any pattern, the true length of time spent creating it depends on how large the final product is, but it does help that Mile a Minute patterns consist of easy, basic stitches in repetitive patterns.

They have great designs. Because these patterns are made and assembled in strips, you get a great striped pattern just by piecing together the parts of the project, not to mention the many designs possible for the strips.

They are portable. Mile a Minute patterns, like granny square patterns, are easy to take with you when you're on-the-go because you don't have to lug the entire project with you, just one piece at a time. This is nice especially as you get further along in the pattern and you don't want a semi-trailer to carry your crochet project with you.

You can use up your yarn stash! Mile a Minute crochet can be a great way to use up your leftover yarn, since the strips lend themselves to different colors and, possibly, different patterns.

You can make many different projects. Most Mile a Minute patterns turn into crochet afghans, since the long strips lend to larger projects. However, it can be used for many other things, like bags and pillows, as well. 
How do I start?
Be sure that you know how to crochet the basic stitches like chain stitch, slip stitch, single crochet stitch, and double crochet stitch. Those are the main crochet stitches used in Mile a Minute crochet, so once you know those, you are good to go. 

Find a joining method that works for you. Many patterns will suggest a joining method, but you can always use your favorite method instead. You can also decide whether to join the strips together as you go along or at the end. Mile a Minute patterns are endlessly flexible, so figure out what works best for you!

Discover a project and start creating! At their core, Mile a Minute crochet patterns are not difficult, so even if you are new to the craft, you will pick it up fast. The patterns linked below would be great places to begin your Mile a Minute journey.
What is your go-to quick project?
Your Recently Viewed Projects