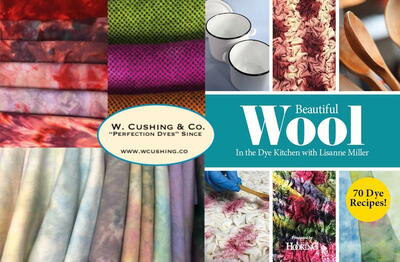 Welcome to W. Cushing & Co., supplying the Fiber Industry since 1879.

W. Cushing & Company has been making and selling Cushing's "Perfection" Dyes in Maine since 1879. Our dyes are beloved by generations of dyers. We offer Acid Dyes as well as Direct Dyes to the fiber industry! Plus the best selection of dyed wools for applique, quilting and rug hooking.

Our Acid dyes are "Perfection" in 98 colors for use with wool, mohair, nylon, feathers, and other animal fibers.

Our Direct dyes are "Perfection" in 40 colors for use with cotton, basketry, synthetic fibers and more.

For those who have "why dye when we can buy" frame of mind, we have you covered with over 150+ dyed wools! Our dyed wools are not boring-- from spot dyes, to dip dyes to dip spots and so much more! Don't see what you are looking for, we can custom dye for you!

Want to Dive into the Dyepot? We have you covered—from dyes to dye spoons to wool. Plus our dyebook—"Beautiful Wool in the Dye Kitchen with Lisanne." Your best reference for doing wool and yarn!

Your Recently Viewed Projects