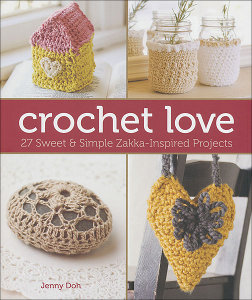 Crochet Love
Publisher/Company: Lark Crafts
Reviewed by: Jesse Carpender
Crochet Love by Jenny Doh features 27 simple Zakka-inspired projects, which are intended to be both functional and cute. Zakka translates to "crafts for the home" in Japanese. These small projects are a quick and easy way to add a super-cute touch to any room of your home. Patterns include Pretty Paperweights (pg. 52), a Camera Strap Cover and Lens Cap Pouch (pg. 56), an Upcycled Chair Cushion (pg. 90), and many more.
According to author Jenny Doh, "Zakka is a Japanese term that refers to sensible design that is cute, yet sophisticated, playful yet profound, and contemporary yet nostalgic." Zakka "elevates the ordinary and mundane to imaginative levels that make people smile."
If you want to make people smile through crochet, then this book is for you. Doh has created a wonderful collection of crochet patterns that seem simple at first glance, but contain an element of elegance and sophistication. You''ll be amazed at how simple it is to create something so beautiful with just a little bit of yarn, thread, and other materials.
Browse 27 different pieces inside Crochet Love to find the right patterns for you. There's a little bit of everything to choose from including DIY home decor pieces and stylish wearables such as knee-high stockings an embellished skirt, scarves, and more. Large, color pictures accompany each crochet pattern, as well as step-by-step photos that make each and every project easy enough for beginners to complete.
Your Recently Viewed Projects