34 St. Patrick's Day Patterns for Crochet Afghans
34 St. Patrick's Day Patterns for Crochet Afghans
St. Patrick's Day is a day to celebrate everything Irish in remembrance of Saint Patrick. Use your crochet skills to make St. Patrick's Day crafts with 34 St. Patrick's Day Patterns for Crochet Afghans. Complete with lucky green patterns and rainbow crochet afghans, you'll have trouble deciding which afghan to crochet first! These free crochet afghan patterns will help you celebrate St. Patrick's Day this year so you can have a festive afghan for your living room. Let's get started!
It's your lucky day because these crafts for St. Patrick's Day are perfect for crocheters. You can make full crocheted afghan or use our granny squares to create a masterpiece of your own. Of course our clover crochet patterns are all very lucky since they are four leafed clovers. Share the luck with your friends by making them a lucky crocheted afghan! Everyone wants a little bit o' luck nowadays and this can be your very own crafty way of wishing the people you love the best of luck.
Crochet afghan patterns are so much fun to follow when you have a goal in mind. With these patterns, you'll be feeling Irish in no time! First, you'll want to check out the Lucky Green Crochet Afghans for patterns that will make you green with envy - but that's okay because you can make one of these afghans and make others envious of your mad crocheting skills. Then take a look at all of our rainbow crochet afghans. Follow these free patterns to learn how to crochet a rainbow to find a pot of gold! Speaking of gold, there are some golden granny square patterns - literally. Crochet one of these granny squares and discover what's at the end of the rainbow. Beautiful patterns await, so now is not the time to hesitate.
As the Irish say, "If you're lucky enough to be Irish, then you're lucky enough." Happy St. Patrick's Day!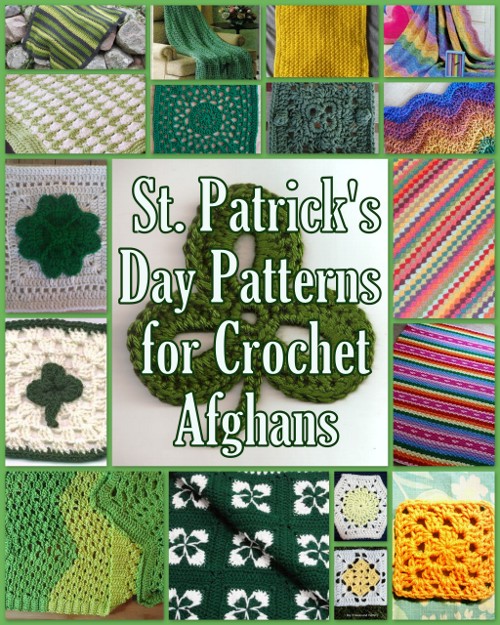 Everywhere you look on St. Patrick's Day you will see the color green! What's great about some of these patterns is that they don't have to be crocheted just for this holiday - they can be kept out all year long. Green is a springtime color and making a springy crocheted afghan will help brighten your home after a long winter.
Skies are blue and the sun is creating the perfect rainbow. It's a combination of colors and you wish to capture the beauty of nature in your crochet - and today you can! These rainbow crochet afghans range from pretty pastels to vibrant hues of rainbow goodness.
I know what's at the end of the rainbow - golden crochet motifs! Granny square patterns are great for a variety of projects. Each pattern is unique in its own way and features different kinds of crochet stitches. The Yellow Baby Blanket is just adorable and snuggly for little ones to enjoy this St. Patrick's Day.
I found you a four leaf clover! Clover patterns are the best crochet patterns for this time of year. The Shamrock Motif is unique because this pattern can be appliqued onto and existing afghan or a brand new crocheted afghan for just a touch of Irish luck. Enjoy these St. Patrick's Day themed crochet granny squares and have a wonderful St. Patrick's Day - good luck!
Your Recently Viewed Projects