Join As You Go Crochet: How to Connect Granny Squares and More
This crochet join will change the way you create afghan patterns!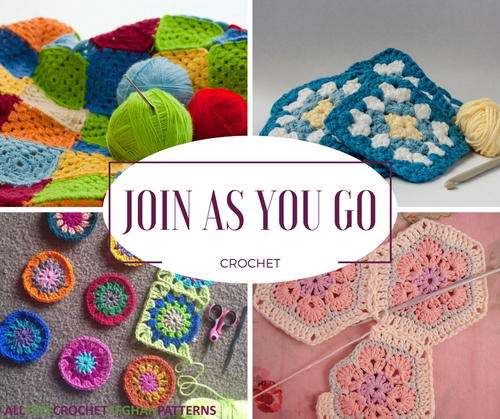 You've finally completed the last square of your granny square afghan. You get up from the couch in unparalleled victory, your crochet hook raised to the sky. You can hear crowds cheering from miles away, and you humbly take a bow. You've done it. You are victorious.

BUT… then you remember that before you're really done, you have to join the crochet squares together. A feeling of dread sinks in as you sink back into the couch and the cheers cease. You wanted to be done with this pattern, to finally cuddle under its warmth, but you have to get back down to business instead. Is there an easier way?

In Join As You Go Crochet: How to Connect Granny Squares and More you will learn about an amazing method for joining pieces of crochet projects that is worked into the making of the pieces, rather than tacked onto the end of an already long process. This method can be used for all sorts of projects, from granny square afghans to crochet motif afghans to mile a minute crochet. 
 
What is Join As You Go Crochet?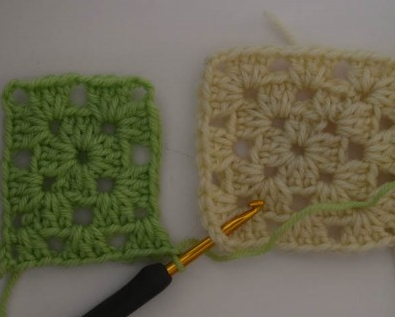 Join as you go crochet is a method of joining together crochet pieces where the pieces are joined during the final round of their pattern. The great thing about this method is that you get the look of a beautiful hexagon motif or granny square afghan without the long, laborious joining-together process. 

This method most often involves replacing chain stitches in the outer edge of a piece with slip stitches to join it to the adjacent motif. These slip stitches are made at every corner and along each edge. Although, depending on the size of your pieces and how large of holes you want, you may only have to join at points of the piece. Many crocheters only use this method when there are chains along the edges and corners of the final round, but any thing is possible in the world of crochet, so you can certainly try the method with other edging!

There are two ways to complete join as you go crochet, and both have their pluses and minuses.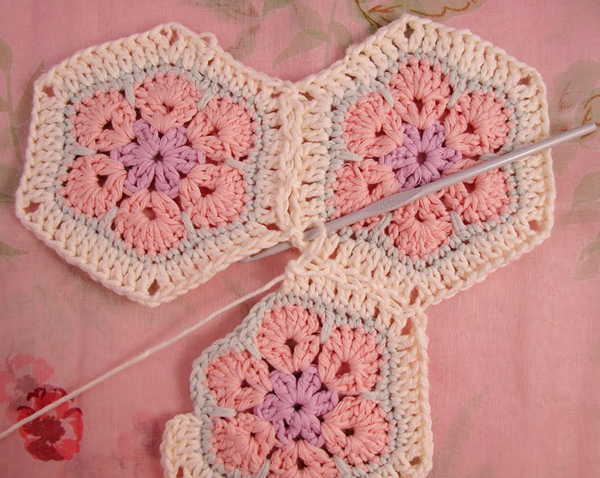 The first way involves literally joining each piece as it is being completed. After you finish the first piece, you work on the second one until its final round, then join the pieces along one edge. Then you make piece number three until its final round, and continue from there, as shown in the picture above. This is a great way join if you want to see your project grow as it is completed, but it does mean your project gets larger and larger as you connect the pieces. You can do this with hexagons, squares, or strips.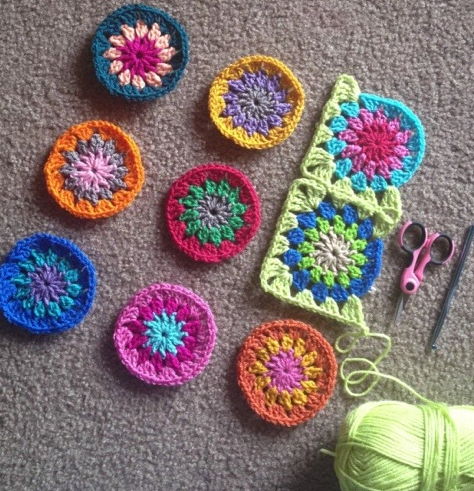 There is also a continuous join as you go crochet where you work up every piece until its final round, then create the final rounds of all of the pieces at once in a continuous pattern, connecting the pieces along the way, like in the picture above. This method may seem like just another regular joining method since you make the pieces first, but it still incorporates the final round of each piece into the join, so you have the same size project without extra joining. This way is great if you still want the portability of individual pieces, but want to save the time of a regular join. Most tutorials on continuous join as you go crochet use square motifs, like this tutorial by Rachele from BabyBrandLove.net.


As mentioned earlier, join as you go crochet can be used with any motif pattern, from squares to hexagons to strips. While the processes will differ a little bit because pieces will come together in different ways (four at a corner with squares, three with hexagons), the general system is the same. That means that once you learn this join, it can be applied to anything.  

There are, obviously, projects where the joining itself is a work of art, so this would not replace braided joins or the like, but it certainly makes run-of-the-mill joins much more efficient.

This joining technique will revolutionize your afghans. 
 
Why should I use the Join As You Go Crochet method?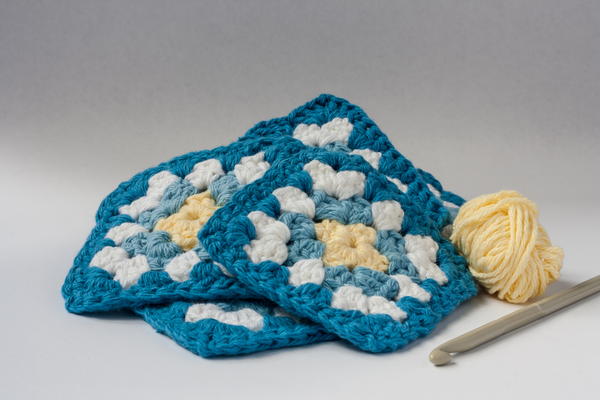 1. It makes your projects portable if you want them to be. The nice thing about join as you go crochet is that the squares are not joined until the final round. This means that you can still take advantage of the portable, smaller-piece features of individual squares or motifs by making everything except the final round. Then, when you get to a place where you can put them together, it is just a matter of completing the final round on each square and connecting them to one another.
2. It can be applied to nearly any project. Almost any crochet afghan pattern that joins together smaller pieces into a larger project can be made into join as you go. All you need to do is consider where would be best to join the crochet squares with slip stitch (generally where there is a chain along the edge) and then remain consistent throughout every join.

3. It saves both time and yarn. Instead of having to crochet the full squares and then spend time joining them together, you merge those two processes. More time for crocheting, and more yarn to crochet with!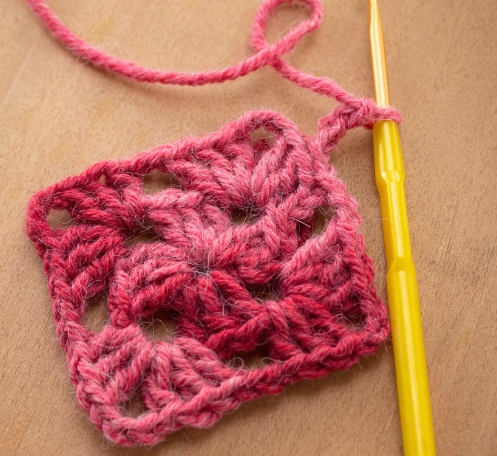 4. It's easy to learn. While blogger Lucy from Attic24 does say that "it helps if at first you can sit quietly with no distractions and concentrate hard on how you are forming the round," once you get the hang of it, you'll be using it on any and every project. Like everything, there is a learning curve, but this one is pretty small. 
Join As You Go Afghan Patterns
How to you like to join your crochet pieces?
Your Recently Viewed Projects