Learn How to Crochet
By:
Liz Abderholden, Editor of AllFreeCrochetAfghanPatterns
So you want to learn how to crochet? Now you just have to figure out where to start. We've all been there. Learning how to read patterns, hold the hook properly, and weaving in the ends of yarn in on a finished project, are difficult in the beginning. As with everything, practice makes perfect.
If you're at a loss as to where you should start, consider this you're jumping off point. We've compiled a list, thanks to suggestions from our wonderful readers, on the basics of crochet. So let's take the leap and begin!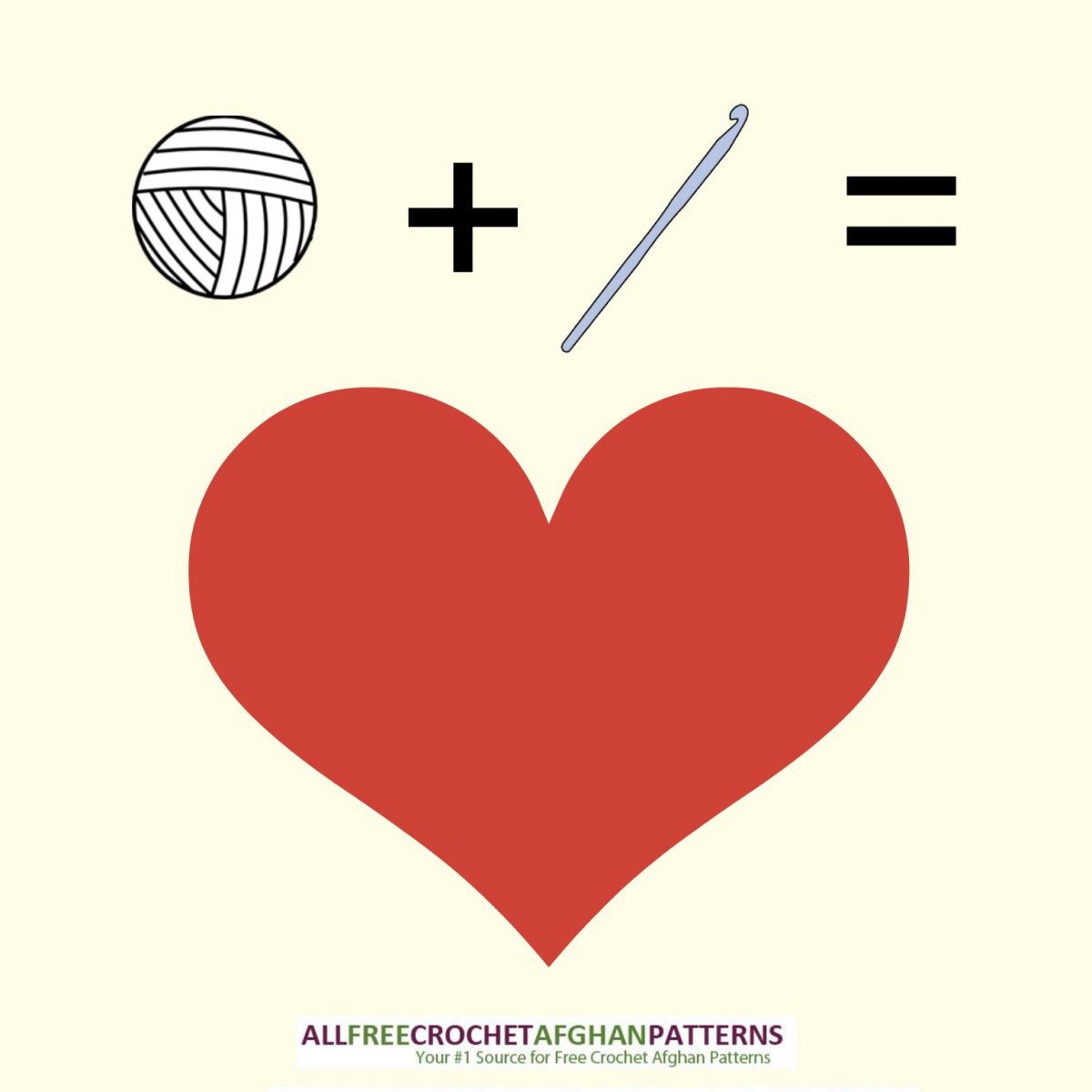 Crochet is an art form that has been around for over a hundred years. In simple terms, it's taking a hook and looping yarn around it. Obviously, there's much more that goes into it than simply looping yarn around. When it comes to supplies you'll need for crochet there are just two requirements: yarn and a crochet hook.
Crochet hooks come in different sizes. The size of hook is determined on the length of the part of the hook between the point and the handle. This will determine the amount of stitches you'll be able to hold. They also come in various materials like, steel, bamboo, plastic, and aluminum, to name a few.
The other material you need is yarn. Yarn's broken down by type and weight. Once you've got your yarn and hook you're ready to start.
Chances are once you've chosen your first project; you're thinking, what on earth do these abbreviations mean? Check out the chart below for basic crochet abbreviations: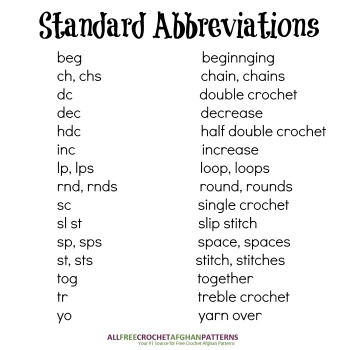 Make sure that you pick a pattern that has the most basic stitches; it will make your life much easier. Before you start, check out some tips from our readers:
"When you try a pattern for the first time, don't read the whole thing. Only read it as you're going along. It makes more sense and you won't be overwhelmed!" – Cathie B.
"Practice, practice, rip out, and practice some more. Granny squares the best to learn on." – Mary Jo L.
"Learn the basic stitches by making lots of granny squares. Once you have the stitches mastered, and then make something that starts with a chain. Or better yet learn foundation stitches and eliminate the need to learn to work off a chain." – Harlene G.
You've got the yarn, hook, and pattern. You even have the nifty chart we made printed next to you, but none of that will do good unless you learn how to actually make the stitch. Here's what our readers said about learning:
"Watch crochet videos.....easy way to learn cause you can pause and rewind all you want and no one to get frustrated at you!!" – Lisa S.
"YouTube all the way!" – Miranda S.
"Practice, take your time, follow blogs & YouTube tutorials, don't worry about making a mistake (we all make them!), double check the count on your foundation chain (if you count wrong, it can throw off the next rows), don't be afraid to rip out stitches (& if you find a mistake 10 rows ago, it's ok to leave it), be proud of your finished work. Be prepared to become a yarn hoarder!!" – Lorraine P.
"Try to join a group... Look up your local libraries and community centers and churches, they normally meet once or twice a month and many attending are elders that will help you on whatever stitch you are having difficulty with." – Cindy S.
"Patience and practice. Also, while practicing, use light colored yarn to see your stitches, and a large hook so your stitches won't get too tight." – Keana P.
"Don't be afraid to try new stitches!!!" – Debi V.
These are all great tips, and if you're looking for more crochet basics, check out some of our other tips:
When you're choosing your first project, start small. Choose something like a granny square or wash cloth pattern before you move on to a full blown crochet afghan pattern or sweater. This will allow you to practice your stitches, and if you make a mistake, it's much easier to go back and fix.
For some beginner patterns, check out some of these:
Even the most experienced crochet will hit a point where they realize they've made a mistake. Make sure to be patient, and if need be rip out the stitches and start over. It can be so frustrating to watch that time go to waste, but the more you practice, the better you get.
Check out some of the suggestions from our readers:
"Always count your stitches." – Brenda S.
"Learn to hold the yarn the right way from the beginning because it's hard to "un-learn" the wrong way." – Jessica L.
"When you get frustrated, put it down. Do something else and come back to it." – Valerie C.
"Practice, don't give up, and push yourself to do harder than you think you can projects, cause you CAN do them." – Dayna F.
"Don't be afraid to rip it and start over" - MomnDad R.
"Try to keep your tension as even as possible. But also remember, that some of our most beautiful work is made by accident!" Amber V.
"If you have to rip out an entire project, just do it. I know it SUCKS but it's better to have that yarn and experience. YouTube is your BFF. And if you do make a mistake, chances are, someone that doesn't crochet will never notice. And count, count, count!!!" – Jule M.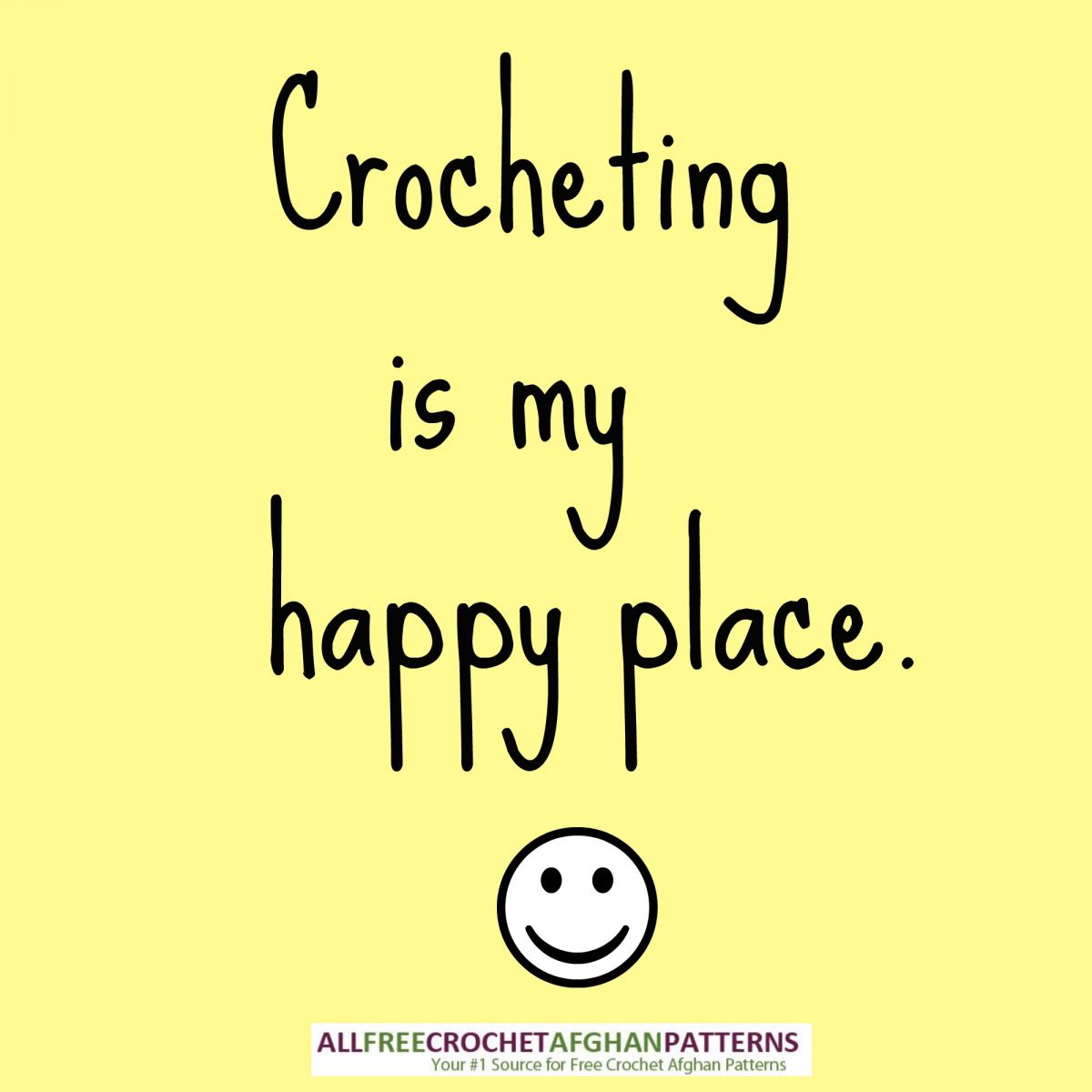 Once you're "hooked", just have fun! It's amazing the projects that you can create from something as simple as a hook and some yarn. Take these notes of encouragement from our readers, and just keep crocheting!
"Remember to stop and relax your hands, rotate your head, and stretch out your shoulders every little bit, especially when first learning. You get more tense than you realize from concentrating so hard and you need to stop and relax. Also, the tension of your work will change a lot at first as you learn to hold your hook and yarn. Don't worry about it. You'll learn how to keep it even if you keep practicing." – Vicki B.
"Stick with it. You will love it when you get the hang of it." – Sarah A.
"Be patient and enjoy learning. YOU CAN DO IT!!!" – Kim M.
"You are going to need WAY more storage space for your projects and yarn than you anticipated ...................... a fantastic addiction!" – Jane S.
Looking for more tips? Check out some of our other tip pages here:
Free projects, giveaways, exclusive partner offers, and more straight to your inbox!
Tags / Related Topics
Your Recently Viewed Projects
Images from other crafters


Something worth saving?
SAVE all your favorite patterns
ADD personal notes
QUICKLY reference your patterns