29 Crochet Shell Stitch Patterns
Learn how to crochet the shell stitch and get ideas for your next crochet afghan!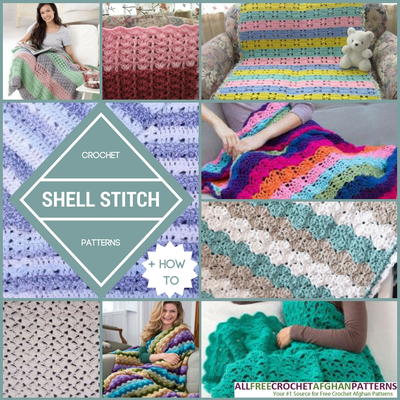 Simple, yet elegant, the shell stitch is one of the first techniques people learn when they take up crochet. A step above double crochet in terms of difficulty, the shell stitch creates arcs and semicircles within the crocheted piece. This stitch can add texture and depth to a basic crochet afghan pattern, and with practice, beginners can pick up this technique in a matter of days.

Crochet shell stitch patterns come in all shapes and sizes, from afghans to scarves to handbags. We've rounded up our favorite crochet shell stitch afghan patterns to prove just how versatile this technique can be.

You can make even more gorgeous crochet projects when you combine the shell stitch with other crochet stitches, so we've included some multi-stitch afghans, too. Check out these crochet shell stitch afghan patterns and you might be surprised to learn how many different afghans you can make with the shell stitch.

If you like these crochet ideas and want to see more, then don't forget to sign up for the AllFreeCrochetAfghanPatterns newsletter, Laying It All Out.


PLUS! Take a look at the video tutorial right below to learn how to crochet the shell stitch or get a refresher.
Table of Contents
How to Crochet a Shell Stitch

Make a chain (any number, but a multiple of 4).

 
Skip 3 chains from the hook and work a shell (two double crochet stitches, one chain, two double crochet stitches) into the same chain space.

 
Skip 3 chain spaces and repeat. Continue until the end.

 
The number of shells you will have per row is equal to how many times you can divide your starting chain number by 4 (ie, if you start by chaining 16, you will have 4 shells). 

 
After completing the last shell in the row, chain three and turn your work.

 
See below for some more crochet shell stitch tutorials. Besides video tutorials, you'll see variations for the crochet shell stitch that will take your crochet projects to the next level. Check them out!
Easy Crochet Shell Stitch Afghans
These shell afghans keep things simple and only use basic stitches. Make an afghan for every occasion, including baby showers, housewarming parties, and summer picnics. Find a  crochet striped afghan uses petal pink and raspberry yarn to create a bold, yet feminine look.

Or how about a versatile crochet shell blanket patterns for beginners? Some are inspired by summer and the seashore, others by the French countryside. Take a look at these lovely and EASY shell stitch patterns. 
Shell Stitch Crochet Afghans Using Specialty Stitches
Now that you've gotten the hang of the shell stitch, test your skills with some multi-stitch crochet afghan patterns. Try a V-stitch shell afghan pattern or practice the wrapped stitch with one of these tutorials. These shell crochet blankets are amazing.

Some of these crochet afghan patterns use two or more unique stitches, they are still a snap to make. You will love the variety in these ideas that still involve the beloved shell stitch.
Your Recently Viewed Projects